I Love Kent Walton
Tom Kelly
The Customs House
Customs House, South Shields
–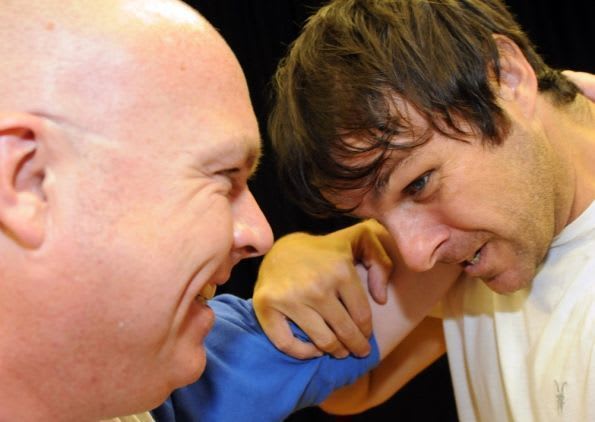 So this guy walks into the Customs House and asks to speak to the Director, Ray Spencer. He has, he tells him, a story to tell which he thinks would make a great play. He used to be a professional wrestler and he tells Spencer some tales of his career: a South Shields lad, he had his first fight in the town.
Spencer was fascinated so he brought Gary Davison ("The Hard Line Pro" as he was billed) together with playwright and poet Tom Kelly, many of whose plays have premiered at the Customs House, and so I Love Kent Walton was born.
It's a one-man show which intertwines Davison's personal life with his wrestling career. This peek behind the scenes of the grappling world, during which we see not only his career but meet almost mythical characters like Giant Haystacks, Big Daddy and Kendo Nagasaki, is fascinating in its own right, but what really holds the attention is Davison's grappling with his own personal and familial demons and his essentially dysfunctional relationship with his first girlfriend Nicola, who has her own psychological problems which are made worse by her awareness of them.
Kelly's writing segues smoothly and effectively between these themes, assisted by lighting changes and carefully chosen archive footage from the Saturday afternoon wrestling broadcasts, with commentary by Kent Walton, which finished in 1988, the year before Davison made his debut, and which had had a major impact on the young wrestler.
Actor Micky Cochrane plays Davison and captures the complexity of the character well, switching as smoothly as the writing between the child who feels himself abandoned, the anger-filled teenager, the bewildered lover and the man who has found himself in the wrestling game.
Fiona Kelly (Tom Kelly's daughter), in her professional directorial debut, judges the pace nicely, especially in the second act where the tone turns decidedly darker.
The audience loved it, and herein lies the sadness for me. This is an excellent play, well written and well performed, but the audience was far smaller than it deserved. The Tyneside theatregoers who didn't see it missed a real theatrical treat.
Reviewer: Peter Lathan