I Love You, You're Perfect, Now Change
Book and lyrics by Joe Dipietro, music by Jimmy Roberts
Kenmac Productions
Riverside Studios
–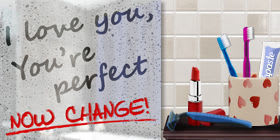 Premiered at the Westside Theatre in New York in 1996, this revue-like entertainment that takes us through romance from dating, marriage, children and disillusion to death became Off-Broadway's second longest running musical with 5000 performances. It has had many other productions including several in the UK and this is what the producers call "a reprise" of the production they presented last year at the Etcetera Theatre.
The producers must have had great confidence in their production to revive it but, though it got an enthusiastic reception from its thin opening night audience, this is a show that seriously misfires.
It is a slight piece but it has lively, tuneful music and its catalogue of romance situations embraces experiences that audiences will share and find amusing. There is a hard-working cast of four, all of whom have pleasant voices and probably don't need the mikes they are wearing. This is one musical that isn't over-amplified. The sound controller is either doing a splendid job or they weren't actually on.
Some of the characters they play could be the same people at different ages, some are quite different personalities but more importantly these actors match each performance to the song in which that person appears.
The text and some of the situations feel very American and the cast all adopt American accents, which probably fit the music more easily too, but director Juan Miralles avoids identifying with sassy New Yorkers. Apart from a pair of monks and an Adam in Superman pants in the opening "Garden of Eden" number, they are mainly dressed in a nondescript way, presumably to make them more like the general run of folk.
So far so good, but they have to act against the most dispiriting, tatty, am-dram setting you can imagine. Every scene seems to involve unnecessary furniture that has to be trekked on and off. This is a case where stripped back simplicity would have been much more effective. Or perhaps there is some sort of double gag going on here that I am missing. Since no-one is credited with design, I rather doubt it. The cast also have to cope with being unlit when they play downstage centre. It is to the credit of the cast that they largely rise above these drawbacks.
The show progresses through numbers about dating (with a couple who decide successively to scrap the second, third and subsequent dates and go straight through to the break up), a pairing in which a couple admit that they are not "a stud" or "a babe" but still go for it, a Christmas party where an expected engagement announcement becomes the opposite, through to a wedding, a scene of ghastly baby obsessed parents, and a Thornton Wilder Happy Journey style mimed family road trip to an elderly Jewish couple meeting at a funeral to which neither of them have been invited.
My favourites were a trip to the movies in which a macho Callum Mcardie gets weepy at the girlie movie his partner (Kathleen Mcnamara) chose to go to, the old Jewish couple of Andrew Irvine and Nancy Hill as the elderly Jewish couple deciding that whatever their shortcomings they can "Live with That"—a scene that is both funny and genuinely touching—and a lively marriage tango.
I presume it is music supervisor Robert Dowton who puts in good work providing accompaniment on keyboard. If it was he, chatting to a member of the audience from the front row before the performance began, what a pity he didn't give us a show selection beforehand. A dimly-lit grey auditorium with a thinly-spread, silent audience doesn't exactly create the right atmosphere to make comedy go with a bang. On a cold night we could have done with a warm up in both senses.
Reviewer: Howard Loxton