I'm an Aristocrat get Me Out of Here
Abigail Anderson, Mark Dawson, JonathanPeck and Lauren Silver
Gonzo Moose
Pegasus Theatre Oxford
–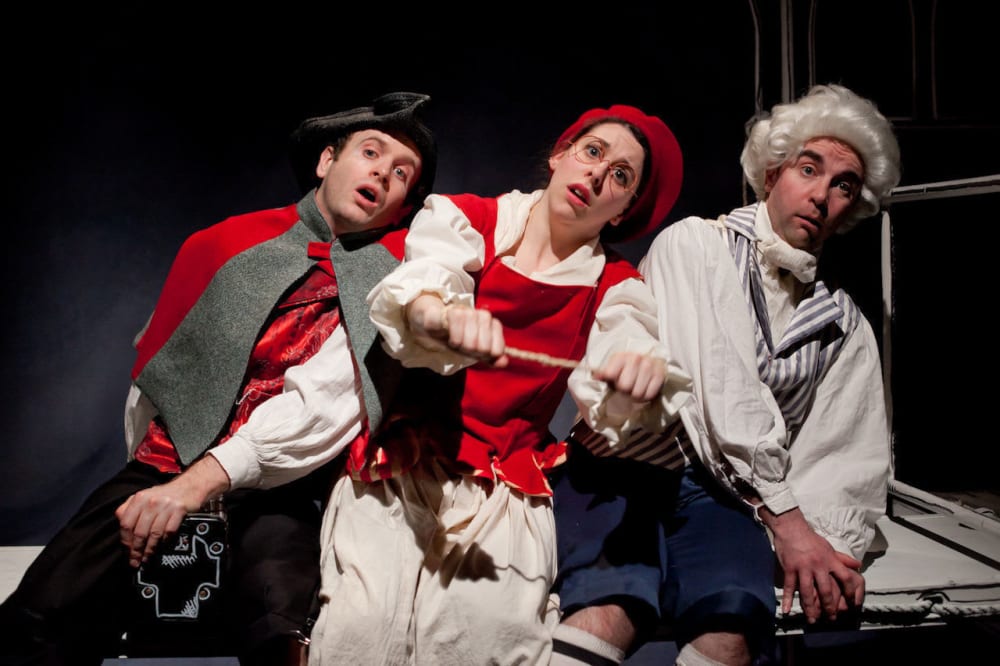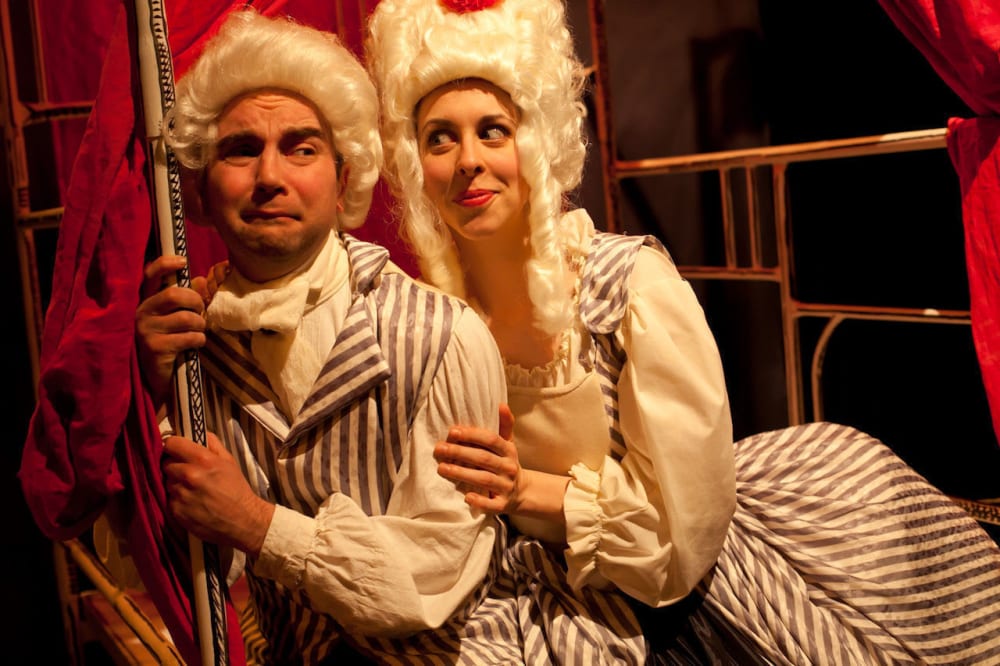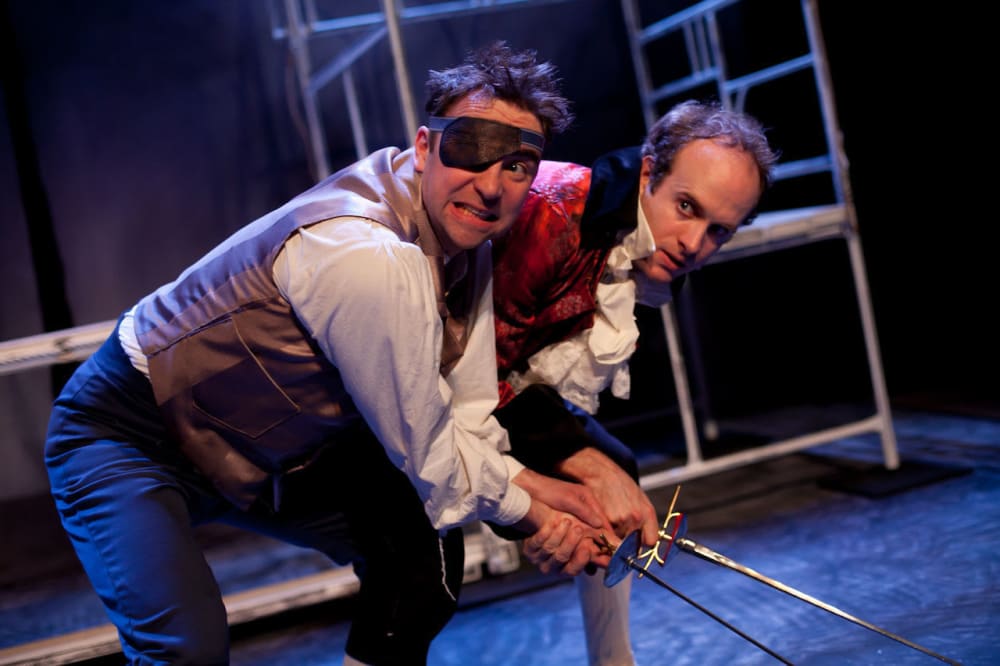 Gonzo Moose's I'm an Aristocrat Get Me Out of Here is a hilarious swashbuckling romp loosely based on the novel Scarlet Pimpernel by Baroness Orczy and written by the company.
The enthusiastic opening night audience at Oxford's Pegasus theatre entered into the spirit of this revolutionary madcap tale with gusto.
It is set in Paris, France with two scaffolding towers designed by Mandy Dike and Ben Rigby providing the backdrop for the palace, dungeons, sewers, a prison cell, Marie Antoinette's bedroom and an inspired sailing ship complete with a figurehead.
It is an irreverent spoof filled with visual fun from the very start with an actor holding up a storyboard with "Overture" written on it whilst the recorded music plays for ages much to his apparent surprise.
The hero of the story is the mysterious Le Grand Pois who is the leader of the partisans Les Petit Pois who are determined to rescue King Louis XVI from the grips of the revolutionaries who have banned Christmas—a rather tenuous link to the fact it's a Christmas production.
The three highly talented actors impressively play over twenty vibrant characters with such energy and spirit with lighting fast costume changes and the cast appear to be thoroughly relishing in their various roles with aplomb.
Mark Dawson is splendid as the lisping, wimpish King and, by contrast, he also plays the eccentric artist commissioned to paint the revolutionist De Rein, the vicious head of the evil secret police strongly portrayed by Jonathan Peck who was suitably booed by the audience and he lapped up every minute of their disapproval.
Lauren Silver's Marie Antoinette, beautifully costumed, is the epitome of the simple, dizzy "Essex girl" with more than a nod to the Carry On films and Barbara Windsor. Her rapport with the audience is tremendous fun. She also plays the accordion musician character Cecile who has become the centre of attention for Jacques who wants to propose marriage to her but is extremely shy.
He involves a member of the audience to practice his proposal to her with hilarious results.
There is a wonderful parody of Les Miserables as the act one finale, all tongue in cheek and performed with sincere ardour.
Abigail Anderson's assured direction keeps the frenetic pace flowing with flamboyant sword fights, a frantic funny coach ride to Calais that was reminiscent of the Keystone Cops, some clever magic illusions, slapstick and knockabout physical theatre.
Also look out for the Irish peasant singer, the decidedly camp hairdresser, the riotous pole dancers and some classic comic invention that will keep you laughing out loud. As to who Le Grand Pois really is, well you will need to go to find out and it's quite a surprise.
If you are searching for an alternative to the traditional seasonal pantomime then I'm an Aristocrat Get Me Out of Here is the perfect choice.
Reviewer: Robin Strapp