I'm Frank Morgan / The Watcher
Joe O'Byrne
Tales from Paradise Heights
Octagon Theatre, Bolton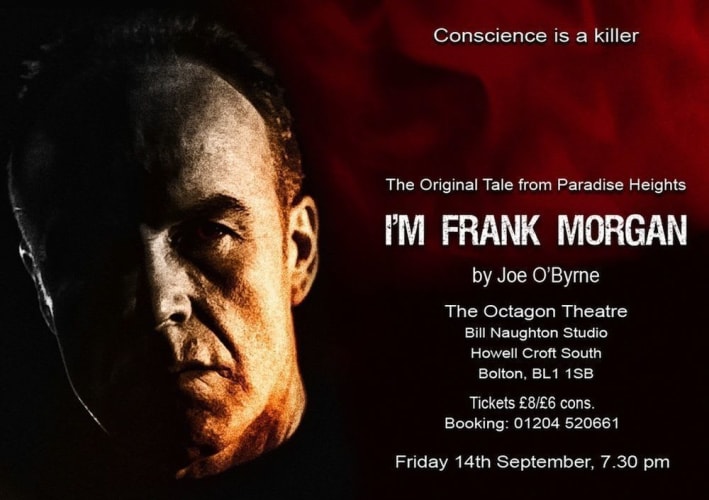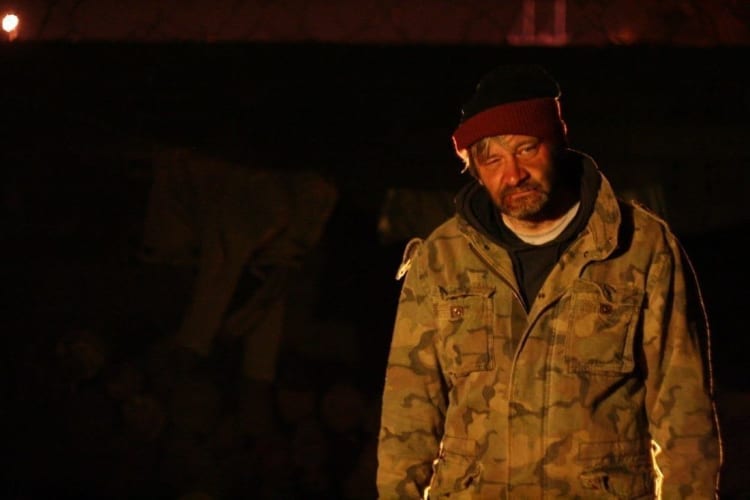 Bolton writer Joe O'Byrne has a growing reputation and following for his "Tales from Paradise Heights", a series of plays and films all set in the same fictional housing estate with characters that move freely between the growing catalogue of stories. For one night only in the Octagon Studio, O'Byrne himself plays feared loan shark Frank Morgan in the play that began it all, I'm Frank Morgan, and also in the much more recent film, The Watcher.
The play is a monologue from the titular hard man who tells us about his work, the people he deals with and what he sometimes has to do to get people to pay back the money he has lent to them. It's a series of stories in which he has no trouble justifying even the harshest of his actions to us, until the last story where things didn't go according to his plan and he is having trouble justifying them even to himself.
O'Byrne told me that they have taken the original play and, without changing the text, produced it in an entirely different way to come at the character of Morgan from a different angle. I didn't see the original, but the setting of the play in a sparse, untidy bedsit and Frank's shuffling around with a constantly haunted look does not seem to be suggested by the words.
His words are addressed to the furniture, the floor or inanimate objects and rarely to the audience, making us feel as though we are not being told a story directly but observing a man having a breakdown, talking to himself, justifying himself, telling stories that may have happened or may be complete fantasies. The justification for this approach comes in that final story, but does the ending justify the means of production?
It does avoid that difficult transition between the confident hard man and the man haunted by actions he can't change, but it is a transition I would like to have seen anyway. While the final moments do make sense of the style of the rest of the play, something is lost from attacking it all at such a slow pace and from not showing the hard man at his most confident before he falls apart.
That said, the quality of the writing does come through and most of the humour comes over well through O'Byrne's performance. This is a powerful and compelling script with a horrific ending that will haunt those who see it, although perhaps not nearly as much as it haunts Morgan.
The Watcher contrasts sharply with the previous piece in many ways. Whereas the play is all about the words, the film is all about images and atmosphere with words used quite sparsely. Ian Curley plays Marek, a taxi driver, driving around Paradise Heights late at night on Halloween when gangs of youths are hanging around the streets wearing masks, forcing parents to keep their kids inside on "trick or treat" night.
There are, it seems, subtle references to the final tale in the preceding play as Frank Morgan is watching a house, a little girl watches, frightened, through her bedroom window, a man stands on the street watching out for his family and a homeless ex-fireman watches the world go by sadly. Any one of them could be the Watcher of the title.
The film, directed by O'Byrne, is superbly atmospheric, helped by Barry Thompson's music and beautiful photography from Colin Warhurst. There are great performances particularly from Ian Curley (who directed I'm Frank Morgan) as Marek and David Edward Robertson as homeless man Danny.
A very interesting evening of theatre and film that would leave anyone wanting to know more about Paradise Heights, but not too keen to pay it a visit. O'Byrne and Curley seem to be a winning team; even their near misses are well worth seeing.
Reviewer: David Chadderton