I'm Getting My Act Together and Taking It On the Road
Book and lyrics by Gretchen Cryer and Music by Nancy Ford
SDWC Productions and Edward Iliffe
Jermyn Street Theatre
–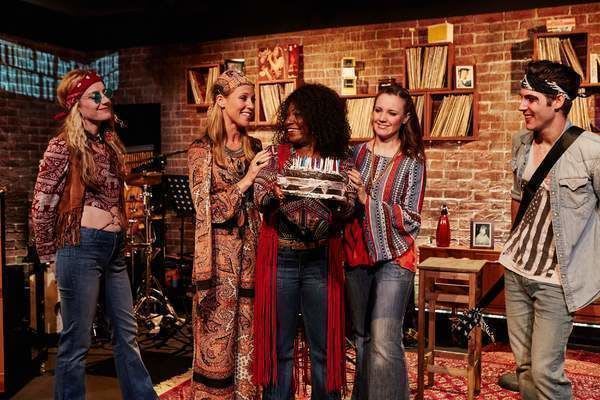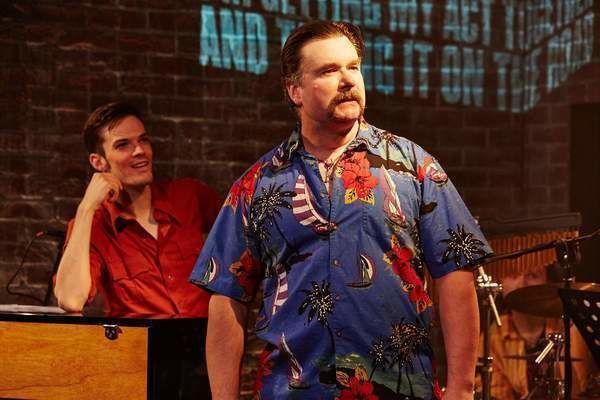 First presented by Joseph Papp and the New York Shakespeare Festival in 1978 at The Public Theatre in New York (where it ran for nearly three years) and in London in 1981 at the Apollo, this is its first London revival.
It presents singer Heather Jones (Landi Oshinowo) on her 39th birthday showing her manager the new programme she plans as her cabaret act. Manager Joe (Nicolas Colicos) wants her to stick to her old songs: he doesn't think the new material will go down well with the public. They are personal songs, rooted in what she has learned as a woman about life and relationships; she even plans to introduce some brief sketches between them.
Director Matthew Gould and designer Edward Iliffe have rooted it in its period, or even earlier, by costuming it with a flower power hippy look and setting it in front of a wall full of shelved LPs and a G-Plan sideboard which suits the manager's male reaction to the feminist slant of Heather's new songs—though perhaps that hasn't become as dated as one might think. It looks rather domestic but is presumably either a rehearsal or recording studio.
Gretchen Cryer's script sketches in a little of the background of Heather's former marriage and Joe's present one—there's a 'phone call from his wife who claims to have cut her wrists (though she couldn't find an artery) and Joe is having problems with another ban: the lead singer has polyps and the guitarist has damaged his hand in a motorbike crash.
It isn't really a fully blown play. Nor is it just a song cycle. There is only a snippet of the promised sketches but, while Heather is writing songs that try to define herself, Joe feels women are getting too hostile, men can only feel safe with other men. While she wants to write songs with integrity, her manager says what's the point of integrity if nobody buys it. The opposition of ideas between them provides the drama that is continued in the musical numbers.
The music is tuneful, the lyrics often clever. In "Miss America", Heather and her girls express their feelings about the Great American Dream and "Strong Woman" is a jokey follow on to their sketch about women trying to be independent yet have a relationship.
A favourite must be the intimate "Old Friend" in which Heather remembers "every time I lost another lover" and expresses her feelings for Joe while Jake (David Gibbons) on acoustic guitar gently courts Heather with "The Simple Way I Love You," asking her to take him seriously instead of being hung up about being older.
"You don't accept me the way I am," Heather declares and "You're not ready for the new woman." That takes us back more than a century to Ibsen and Bernard Shaw, still valid it seems in 1978 and sadly perhaps still true: not everyone has become the "new man". However, this isn't a piece of feminist diatribe but a touching look at the problems in being oneself and having a successful relationship that also has a sense of humour.
All the cast seem to be instrumentalists. Nick Barstow directs the music from the piano.
Reviewer: Howard Loxton