I'm Sorry I'll Say That Again...Again

The OFFSTAGE Theatre Group
Cheltenham Playhouse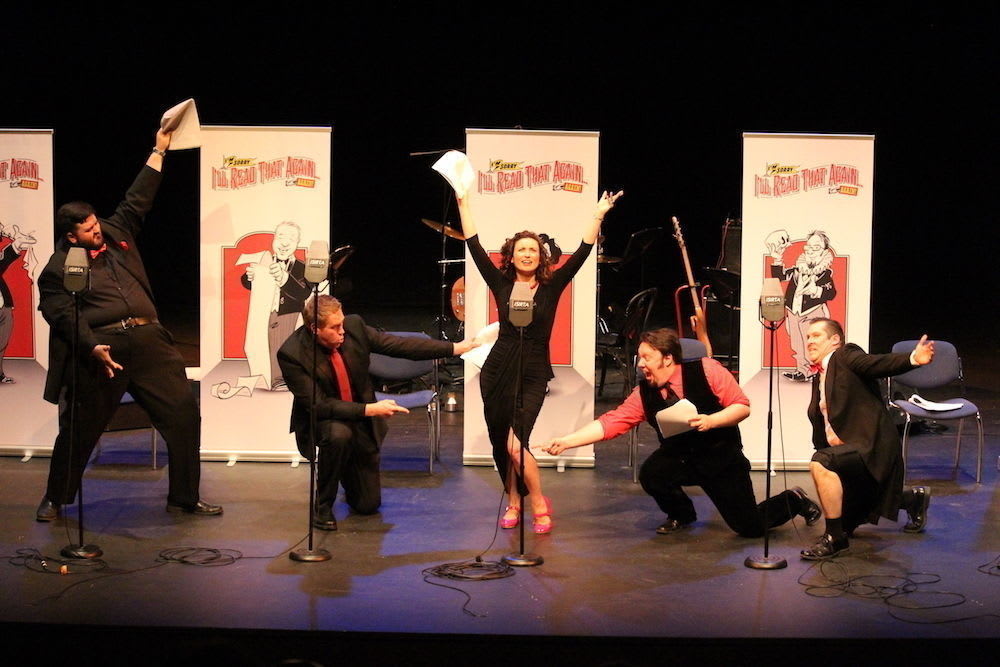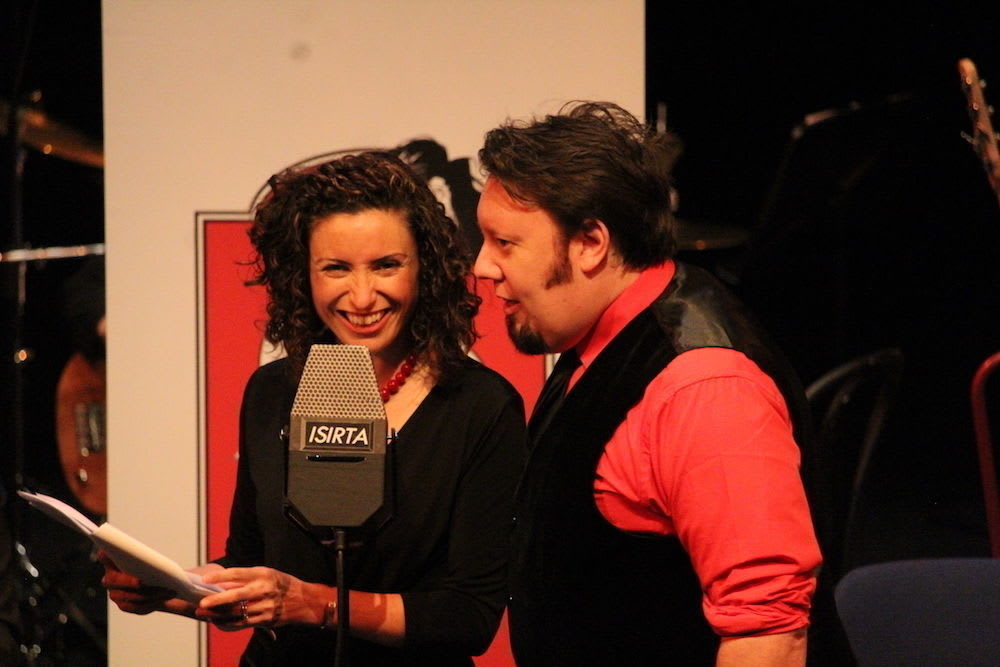 After their critically-acclaimed and 5* reviewed tour in 2017, the BBC recorded 4 episodes of the Gloucestershire-based The OFFSTAGE Theatre Group's I'm Sorry I'll Read That Again...Again at Cheltenham's Playhouse Theatre before a live audience. Better a live audience than a canned one to appreciate the slick and expertly scripted show, or should I say shows, produced and directed by Barnaby Eaton-Jones.
A full house waited excitedly. Suddenly the music stopped and a voice says, "that made you go quiet". There was a short audience practice for sound levels from gentle titters through chuckles to full blown guffaws and wild riotous applause before our announcer of the night, Ben Perkins, with his silky smooth voice, got the show underway.
Originally, I'm Sorry, I'll Read That Again was a Radio 4 sketch show running for 8 series from 1964 to 1973. It starred John Cleese, Graeme Garden, Bill Oddie, Tim Brooke-Taylor, David Hatch and Jo Kendall.
A quintet of actors, Hannah Boydell, David Clarke, Barnaby Eaton-Jones, William K V Browne and Ben Perkins, gave us an evening of wicked parodies, glorious puns and silly songs from the pens of Graeme Garden and Bill Oddie, as well as the return of the ever-frisky Lady Constance de Coverlet (Barnaby Eaton-Jones).
Episode 1 opened with a sketch featuring the new controller of BBC Radio Comedy. Aunty Beeb needs something new, but what? And so Radio Prune was born to broadcast un-offensive comedy. There was a superbly funny blues song "Thrown Up" followed by a Radio Prune audio porn rendition of the "My Fair Lady Dirty Song Book" by Hannah Boydell and Ben Perkins on horn accompanied by musicians Andrew Farrington, Andy Rushton, Catherine Thomas and Paul Wood. It's amazing what happens when the odd word is replaced with a beeping horn and had the audience falling about with laughter.
A quick breath and change of script and we were launched into the opening number for Episode 2 and full frontal radio on Radio Prune. The mind boggles as we were whisked off into the 4th dimension with Professor Prune and his Electric Time Trousers; the infamous "Stuff Your Gibbons" song sung by the Turnball Folk and Madrigal Society and a very funny sketch about gardening, yoga and cooking done all at the same time... Oh no it can't be... oh yes it could.
Episode 3 and eating at Wetherspoon's will never to be the same again. Nor will Swan Lake be watched without an inner laugh remembering the Radio Prune's Visual Arts Presentation with hilarious commentary by the BBC Sport team. The tale of Jack the Ripper took on a whole new meaning too as accompanied by the sound of 1888's ripping bloomers in foggy Whitechapel.
And the final episode of the evening, after a brief 5-minute interlude, saw Radio Prune go commercial. Commercials on the BBC? What is the world coming to!
Each of the 4 episodes included a drama. There was an hilarious version of the great Bard's Scottish Play (Macbeth); Hans Christian Andersen's tale of Simply Snow White and the Seven Perverted Goblins; a very different Jack the Ripper; and very funny Moll Flanders—Diary of a Woman of Fortune.
There were witty songs—"My Identikit Girl" sung by William K V Browne with a comical police chorus (hello, hello, hello, hello) and a toe tapping "The Chartered Accountant".
The cast were all just amazing and how they didn't fall about laughing and unable to deliver their lines was excellent.
So is Radio Prune PC? Oh definitely not. Is it funny? Oh very definitely yes and I cannot wait to hear it all again when I'm Sorry I'll Read That Again Again is transmitted on BBC Radio 4.
Reviewer: Judith Wordsworth