I Masnadieri
Giuseppe Verdi Libretto by Count Andrea Mafei
Teatro di San Carlo, Naples
Teatro di San Carlo, Naples
Released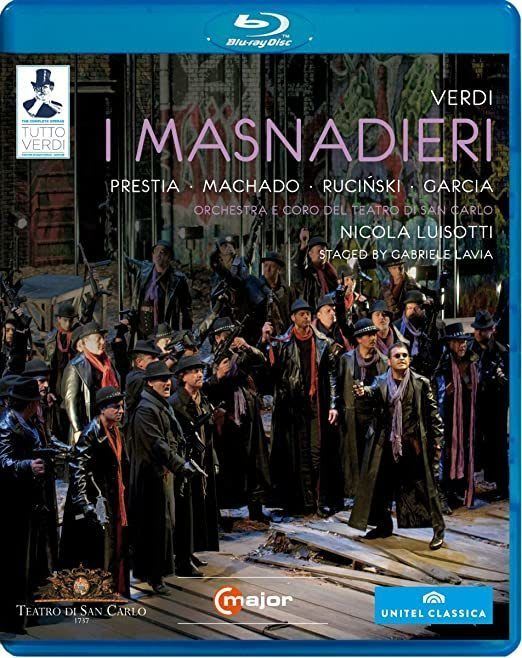 Commissioned to write an opera by Her Majesty's Theatre in Haymarket, Verdi travelled to London in 1846. He complained about the weather (rain, mist, smoke) but loved the city.
Queen Victoria and Prince Albert attended the première of I Masnadieri in 1847 which was conducted by Verdi and starred Jenny Lind. It was a glittering social occasion and a big success. The critics were not as enthusiastic, finding the opera too gloomy and too violent for their taste. There were only four performances. It has rarely been staged since. Musically uneven, it never really lifts off.
The romantic and cynical libretto is based on Friedrich Schiller's Die Rauber, which is set in the 18th century. In Gabrielle Lavia's production for the Teatro di San Carlo in Naples in 2012, conducted by Nicola Luisotti, the brigands look like 1950s Mafioso.
Two brothers, Francesco and Carlo, are in love with Amelia, their orphaned niece. Francesco, ambitious for power, engineers a spat between Carlo and their dad. Carlo is banished and joins a band of bandits and becomes their leader. With Carlo out of the way, Francesco plots to kill his dad.
It is difficult to take Carlo and Amelia's love for each other seriously. Aquiles Machado and Lucretia Garcia are so ill-matched physically; and especially when they are sitting on the ground next to each other. He looks like a little boy and she looks like his big elder sister.
The role of Amelia was specially tailored by Verdi for Jenny Lind, the famous Swedish Nightingale. Garcia sings better than she acts and is at her best when she is rejecting Francesco's proposals of marriage, rape, prison and death. She produces a pistol (instead of a sword as in the Schiller play). So why doesn't she pull the trigger?
Francesco (Artur Rucinski) has a pronounced limp, theatre's quick way to immediately establish Francesco is an evil and depraved character, his mind as twisted as his body. He buries his own dad whilst he is still alive and has nightmares about it. He prefers to go to hell rather than to heaven.
It is difficult to take the chorus of bandits seriously. They are all wearing the same gangster hats and they are singing about pillage, rape and killing as if they are the jolliest things to be doing in the world. They could be pirates in Penzance.
I Masnadieri is a collector's item and Verdi completists will rightly want to collect it, lacklustre though Verdi and this undercast performance may be. When will there be another opportunity to see it?
Reviewer: Robert Tanitch