I Puritani
Vincenzo Bellini, libretto by Carlo Pepoli
Oper Stuttgart
Staatsoper Stuttgart
–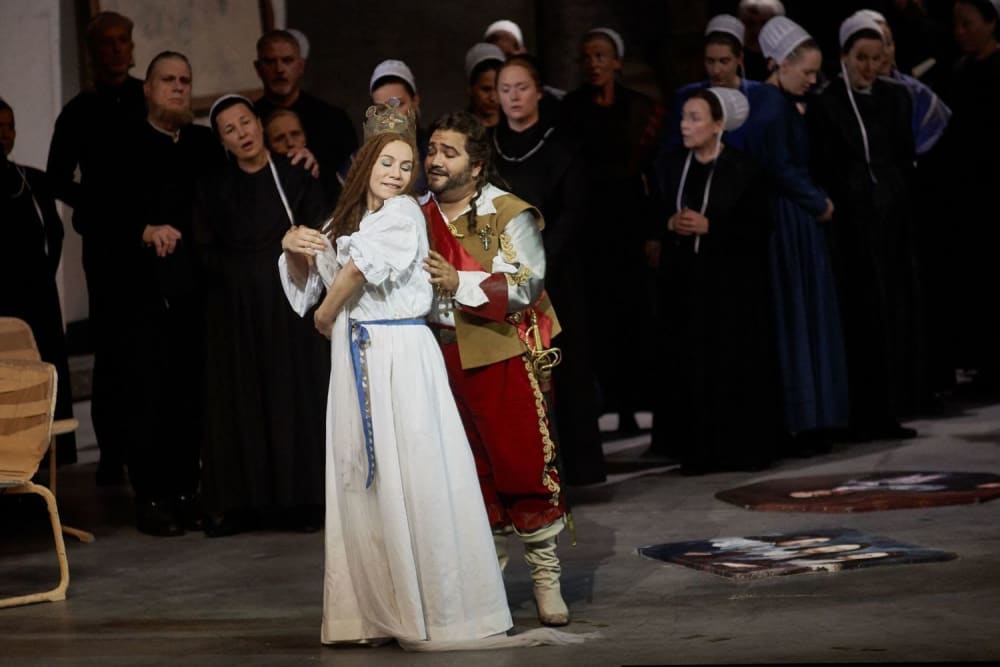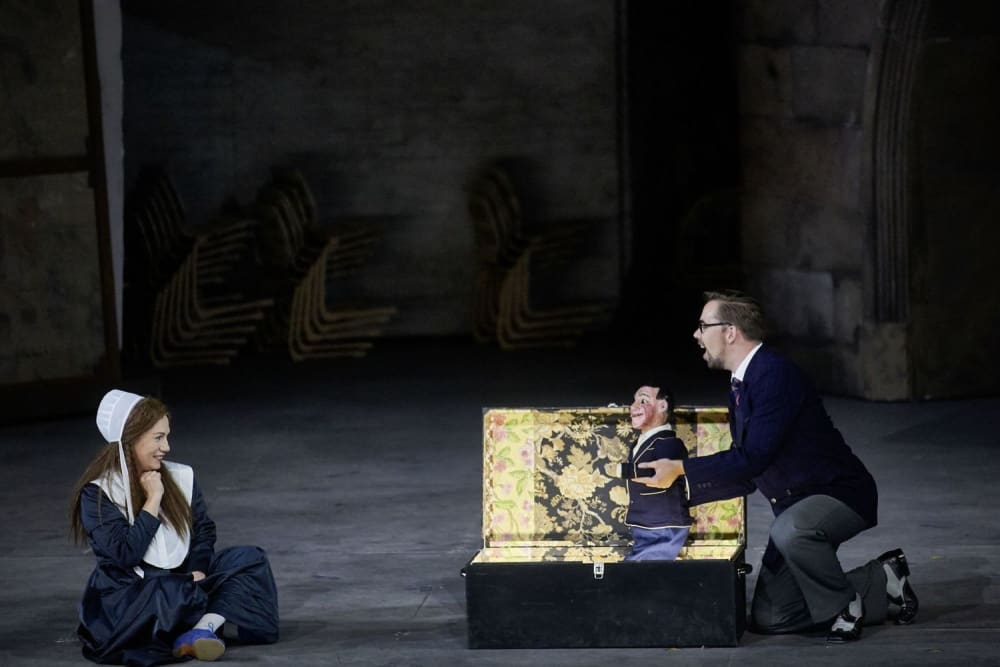 I Puritani, Vincenzo Bellini's great romantic opera, premièred in Paris in 1835, the year he died, aged 34. The story is set during the time of the English Civil War.
Just as Puritan Elvira (Ana Durlovski) is about to be married to Royalist Arturo (Rene Barbera), he deserts her for another woman, last seen wearing Elvira's bridal veil. Elvira does the only thing any self-­respecting jilted heroine would do in such operatic circumstances. She goes stark raving mad, a precedent set by Shakespeare's Ophelia and continued well into the 19th century when mad scenes were all the rage.
I should point out that Arturo hasn't betrayed her at all. He was merely helping Queen Henrietta (widow of the recently executed King Charles I) to escape her captors and the veil proved a useful disguise.
The production online is by Jossi Weiler and Sergio Morabito. It premièred at Stuttgart in 2018 and was conducted by Manlo Benzi. There are English sub-titles.
A little girl is reading a book and the male chorus is on the floor on their backs with arms raised and Bibles in hand. The little girl becomes Elvira. Henrietta is kissing portraits of the royal family and carrying the canvas round the stage in an absurd manner.
So, the opera is Elvira's dream. This fantasy is played out and never makes sense. Heaven help anybody coming to I Puritani for the first time. Better to shut one's eyes and listen to Bellini.
Bellini and bel canto are synonymous, In act 2, Roland Bracht (Elvira's uncle wearing a modern suit and modern spectacles) and Gezim Myshketa (Roundhead Riccardo wearing a terrible pudding basin wig) have more impact than Elvira does in her madness.
I am not surprised Elvira went mad. The production is terrible. It doesn't feel remotely English or 17th century and it is so distractingly artificial it's impossible to become emotionally involved with any of the characters.
Barbera could be playing Sancho Panza. Why is his reunion with Elvira being acted in and around a big toy house and why is he blind and stumbling all over the place and why is she lugging broken statues and skulls and why are the Puritans behaving like zombies?
The one high spot, the only scene I really enjoyed, was the end of act one when Elvira, totally bonkers, thinks she is marrying Arturo. Musically, it was wonderful. The orchestra and chorus were thrilling.
The opera ends on happy note with Cromwell's victory. Happy! You must be joking. The Puritans immediately closed all the theatres and they weren't reopened for 18 years. Just imagine what it would be like to have no theatre for EIGHTEEN YEARS. Don't imagine it!
Reviewer: Robert Tanitch