I Want My Hat Back
John Klassen, book and lyrics by Joel Horwood, music by Arthur Darvill
National Theatre
NT Temporary Theatre
–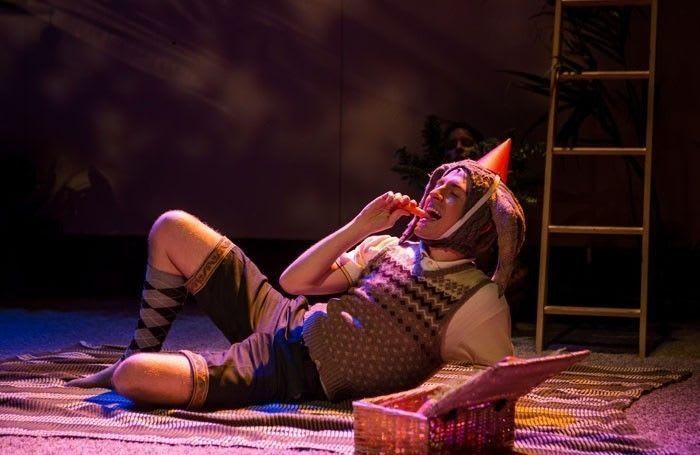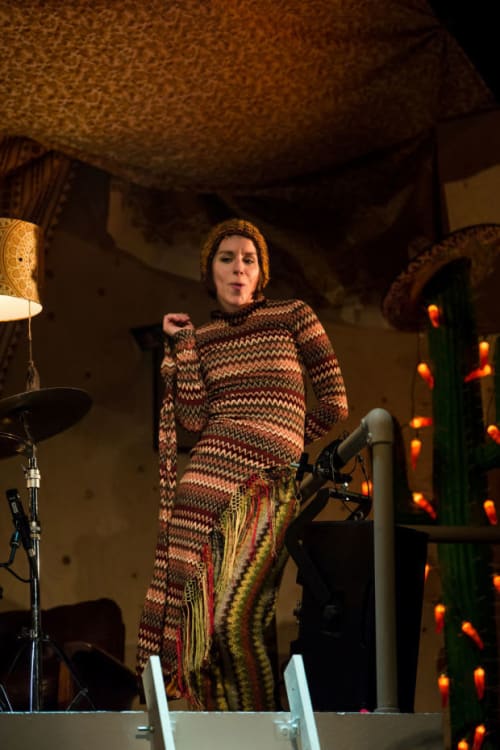 Based on the picture book written and illustrated by John Klassen, this is the National Theatre's Christmas treat for the very young, three upwards. It's a play with the emphasis on play and gives them a game that they eagerly join in.
The story is all there in the title. There's bear who has a pointed red hat he's very fond of but it's gone. Has anyone seen it? He asks a lot of fellow forest creatures but we know that naughty Rabbit has pinched it, we saw him do it! Will Bear get it back?
There are bright songs and sprightly dances that range from wriggly wiggles to snatches of tango and flamenco and a live band who overlap as actors and are there in full flood from the start.
The experience starts as you leave the National Theatre foyers. On the way into the temporary theatre, the passage walls are hung with hats of different kinds and, as the performance space fills up, adventurous youngsters are invited to help hang Christmas decorations, assisting the performers who are sweeping the carpet and tidying things up.
The band (Oliver Birch, Richie Hart and Adam Pleeth),l all in a sort of lederhosen, Beatle-wigged and wearing antlers, are high up on a platform. They become stags in the story. A Christmas tree up there makes things seasonally festive. There's a big cactus dressed with tree lights too, swags of what look like duvets overhead and coloured lights all round the auditorium. This feels like getting ready for a party and Wils Wilson's production maintains that party atmosphere; it's going to be fun.
Then the show begins and Bear's there. Unlike the other animals he meets, he's in a sort of bear suit, a human face but a brown romper outfit. The other creatures wear token items to tell us who they are but stay very human. There is no attempt to copy Klassen's stylishly stylized illustrations. Fly Davis's design makes the audience use their imagination. Three of the actors turn themselves into trees for Bear to push through; they are the liveliest vegetation ever. He's in a forest, though it's a strange one made up of some rather exotic house plants.
Bear isn't very good at talking—not with words that is: it's mainly grunts, mumbles and gestures, but Merek Larwood doesn't need words to make sure we understand him. He gives Bear a sort of signature hip swerve but he's too tired to be energetic and not exactly the brightest of the forest creatures anyway, but very cuddly. When his yawns turn to snores and sleeping, he rolls away from where he carefully put his hat down.
That is when Steven Webb's Rabbit finds it. He's already got a knitted woollen helmet with floppy bits like rabbit ears; an extra one makes him look like a medieval jester. He's got a funny walk, leaps like a jack-in-the-box: a naughty rabbit and one you can't help liking. He loves the hat; he wants it. He knows he shouldn't but he takes it. When Bear wakes up, it's missing.
Of course, Rabbit should hand it in at the Lost Property Office—there's a policeman there and waiting—but he doesn't. When Bear turns up to see if they have got it, he's offered other things but they don't sit on his head the way is hat did. Has no one seen it?
He asks three frogs (Natalie Klamar, Naana Agyei-Ampadu and Pieter Lawman, who also play all the other animals) who each wear some froggy feature to make up the whole frog picture, a karate equipped fox, a tortoise (who Bear helps mount a hilltop), a slinky snake and a colourful caterpillar who makes a glittering transformation.
"The rabbit's got it," the audience tells Bear, but he doesn't take in what they're saying. He even asks the rabbit. Is he blind? He certainly lacks a big brain even for a bear. At last the penny drops and then, as in so many old fairy tales, justice is sudden, though eventually for Rabbit there is a happy ending.
This is a simple story, simply presented, beautifully mounted and precisely tailored to its audience. It is performed with clarity as well as panache, keeping even the youngest in the audience absorbed and all actively engaged for a well-judged playing time of just over an hour if you include the time they took to show their appreciation. The grown-ups all had a good time too.
Reviewer: Howard Loxton