I Was a Rat!
Philip Pulman, adapted by Teresa Ludovico, English version by David Watson
Birmingham REP with Nottingham Playhouse, New Wolsey Theatre, Ipswich and Teatro Kismet
The Old Rep Theatre, Birmingham
–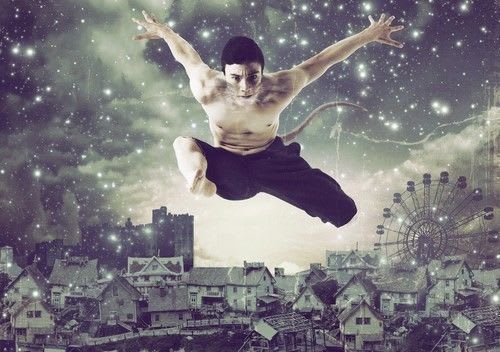 In choosing a show to celebrate its centenary, Birmingham REP wanted to come up with something that would reflect the ethos of its founder Sir Barry Jackson. He was the man who reportedly pioneered the idea of performing Shakespeare in modern dress.
The REP was also looking for a production to showcase its current artistic vision and policy.
I Was a Rat! appears to fulfil the criteria: Teresa Ludovico's adaptation of Philip Pulman's novel is a bold offering which draws together some of the best elements of a fairy story and blends them with contemporary issues.
I Was a Rat! tells the story of a boy in a footman's uniform who late one night knocks on the door of an elderly, childless couple. All he can say is "I was a rat".
They take the boy, whom they name Roger, to the City Hall, an orphanage, police station and hospital but no one knows who he is or where he lives.
He's captured and paraded as a freak in a circus but escapes. He is discovered by a newspaper, The Daily Scourge, which, like some publications today, does not let the facts get in the way of a good story. Roger is declared a menace; his fate is determined by a tribunal.
Ludovico, who also directs, is artistic director of Italian company Teatro Kismet. The Italian influence is evident with masks, minimalist scenery, mischievous servants and military men who are not as brave as they would have you believe.
There's also slapstick, puppetry and live music from Birmingham-based "anarchic gypsy-punk orchestra" The Destroyers.
You will no doubt find something in I Was a Rat! to charm you. There are sections though which will not appeal to everyone: some verge on the surreal while parts of the play including a silly walk could have been taken straight out of Monty Python.
The acting is first-rate; an eight-strong cast is supplemented by 12 Young REP rats, all of whom throw themselves energetically into their roles.
The prime example is Fox Jackson-Keen who plays Roger. A former Billy Elliot at Victoria Palace Theatre, he is incredibly agile and is encouraged to display his acting ability as well as his dancing prowess. A scene in which he is distraught because he does not know if he is a boy or a rat is particularly poignant.
Tyrone Huggins and Lorna Gayle are delightful as Bob and Joan, the couple who are content with their humdrum life and try to look after Roger. At one point they dance in the snow—undoubtedly a feel-good moment.
The attention to detail is exemplary, especially in the mannerisms of some of the long-tailed rats who throw themselves on top of one another as they cavort across the stage.
The strength of I Was a Rat! is its desire to appeal to both adults and children but that's also the play's downfall: it tries to engage on too many levels and only partially succeeds.
Reviewer: Steve Orme