I Went to a Fabulous Party...
And Davies
Kings Head Theatre
–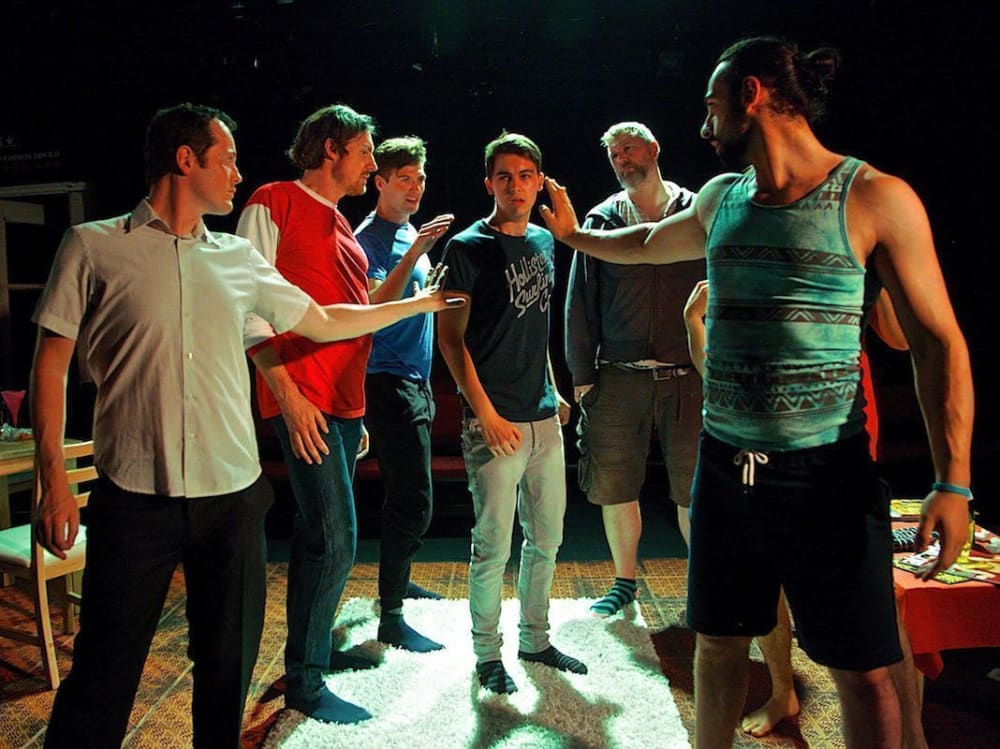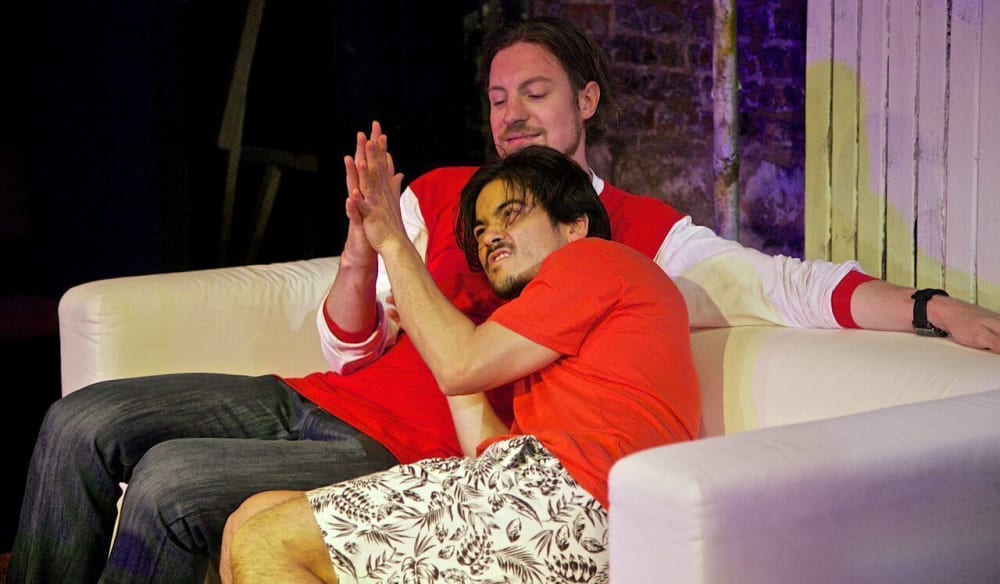 I Went to a Fabulous Party... but, I'm sorry, it wasn't this one. Someone thought this script very funny or maybe was attracted by its depiction of gay guys relaxing together.
Dan Phillips's production starts very interactive before the guests' arrival with Piers Hunt's Matt vacuuming under the feet of the front row and asking for audience reactions to pictures of guys in gay magazines.
It looks as though everyone is going to be on the invitation list. However, though later, one audience member does indeed get pulled in, not unwillingly, to part strip, that is as far as immersion goes.
Matt's husband Lee (Mark Ota) gentle and dishy is not feeling well but since they've been happily together for years Matt presumably knows him well enough to think that the guests will cheer him up.
First arrival is very camp Chris (Gregory A Smith) an admirer of Lee before he met Matt, bitchy tongued but a loyal friend. Next is Darren (Luke Kelly) a workmate of Matt's whom Lee doesn't like much; he seems to have been at the bottle already, doesn't think much beyond sex and believes "I can get it without trying".
Next there is an older man Tom (Stephen Oswald), a bit of a bear and already greying. He's followed by an unexpected arrival, Josh, a stranger whose been invited by another friend Paul.
Josh, a young physics student, is soon the centre of attention. "Hello, gorgeous," is Darren's greeting. "Hello twink," is Tom's, who describes him as One Direction all rolled into one. Josh isn't as innocent as he presents himself but he's not really out. It's soon clear that he's been keen on Paul for ages but bi-sexual Paul, who soon follows, is driven by sex not affection and thinks he's God's gift to gaydom.
We learn just a little about them, but these men don't seem to have much to say to each other. You could think they'd come round for an orgy rather than a party except that led by Darren some of them seem glued to an online sex site rather than any real action.
Watching other people watching Grindr.com takes up a good part of the playing time but it doesn't make a play. There are a few things that raise a laugh and some serious moments, including a well-played scene between Lee and Josh about relationships that suggest And Davies did have something he wanted to write about other than providing an excuse to strip off. In fact that becomes almost poignant as the older man is cajoled into joining his body-baring juniors.
Fortunately Davies doesn't make us sit through the whole party but makes several time jumps indicated by slow motions and dance sequences—a row in one of them one of the production's best moments.
The actors do their best to breathe life into this but unless desperate to see dick it is likely to prove disappointing.
Reviewer: Howard Loxton