I wish I had a moustache
Keisha Thompson
Z-arts, Manchester
–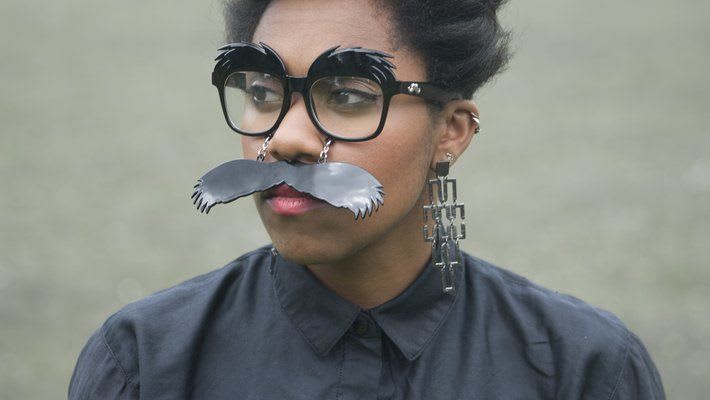 No doubt many women will sympathise with Keisha Thompson's account of her battle to come to terms with her unwanted bodily hair. A key issue here, of course, is the question of why this hair is so unwanted.
Naturally, in the process of exploring Thompson's own struggle, we are led to reflect on how our culture not only tells girls from an early age that the way they look is the most important thing about them, but is also so prescriptive and controlling about what must and must not count as female beauty.
Thompson's production does not lean heavily on the machinations of patriarchy—there's no ranting here (no matter how justifiable it might be). She talks of men mainly to lament that they too are becoming obsessed with bodily hair of their own (back, crack and sack, anyone?)
Informatively, we learn that the proscription against female bodily hair may have its origins as a commercial (rather than more broadly cultural) imperative. It seems a well-known brand of razor blade manufacturer mounted a campaign to get women to shave their armpits (and more) during World War One, when business fell off because the menfolk were doing too much killing and dying, not enough shaving.
Thompson's own antagonistic relationship with bodily hair started very young, in a painful attempt to shave her legs as a small child. But then, as she is meant to learn, 'beauty is pain.'
Some girls Thompson meets along the way buy in totally to the beauty myth. Melanie is only too happy to dispense "friendly" advice to the teenage Keisha on how to improve her look. Melanie even goes to the waxing parlour with her mum. Melanie has a head start, though—not only is she the kind of girl boys dream about, she is fair-skinned and blonde.
It is only when the short, dumpy Rebecca proves to be more at ease with herself than Keisha that doubts begin to form. The monster of anxiety and self-loathing proves too strong though, and Keisha's quest for a hair-free life becomes increasingly desperate and extreme.
Perhaps saddest of all is her first experience of sex. It's a good one, but boyfriend Adam winds up dumped; ironically, for not seeing a problem with bodily hair.
Finally, Keisha finds herself lying about having a medical condition (PCOS: polycystic ovary syndrome) in the hope of getting expensive laser treatment on the NHS. It is while she is at Withington hospital for a pre-procedure assessment that she encounters the young girl who will change her outlook and make her realise that some things are far more important than "excess" bodily hair.
Thompson's performance is personal though not self-indulgent. There is a lot of humour and a certain amount of audience participation—a young man steps up from the audience to play her mother during a spoof game show, "Prove Your Kids Right". Thompson's impression of Bruce Forsyth is not all that accurate, but it is very funny.
The cultural power of rap seems to lead some young artists to the view that autobiographical performance has to mean performance poetry. Thompson is at her most captivating here when she is in character(s). She slips into poetry at points where the emotional power of the story might be better served by staying in the moment.
This is particularly true of her Damascene experience. The encounter with the child was clearly life-changing for her and I think she could draw the audience into it more fully by "reliving" it in more detail with us, rather than taking us into an ethereal realm of rhyme.
All told, another encouraging (and well patronised) contribution to the Black Gold Arts Festival. If you can't get there this year, watch out for it in 2016.
Reviewer: Martin Thomasson