I Wish I Was Lonely
Hannah Jane Walker and Chris Thorpe
South Street Arts Centre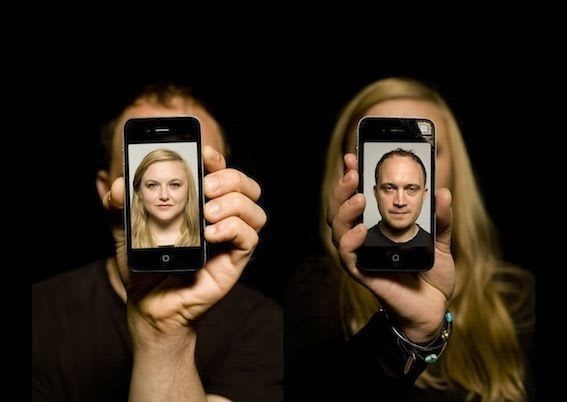 I Wish I Was Lonely, performed at South Street Arts Centre on the 3 June had me expecting great things. This performance poetry pair won me over with The Oh F**K Moment a few years before, and I was anticipating an immersive, participatory, poignant and thought provoking piece of theatre. I was not disappointed.
I like to think that I am not dependent on my mobile 'phone, that it is just a useful device of which I am fully in control. I have turned off every notification, every bleep and squeak. However, being asked in a theatre show to leave my 'phone on (set to ring), handing over my mobile 'phone number and even handing over my 'phone, was beautifully disconcerting. I found myself clutching it in my hand all the way through, and hating it at the same time.
I Wish I Was Lonely is a delicately layered piece of poetry and performance from poet Hannah Jane Walker and theatre maker Chris Thorpe. We are thoughtfully guided to question our new way of living; a life that is constantly in contact.
Why can't we stand at a bus stop without mindlessly checking our e-mails at the first twinge of conspicuousness? Why can't we cook a meal without photographing it, watch television without tweeting about it, go to the loo without playing solitaire? What has happened to our ability to be alone with our thoughts?
Yet, despite the mild guilt the audience inevitably begins to feel about their 'phones, we are also encouraged to see its beauty, the power of connection to shape our lives, to help us, to save us even. We are asked to think just how many pockets, buses, drawers and bedside tables our number is in, carried around within other people's worlds. It is a beautiful thought.
Theatre is often created around the idea of telling a story, providing view points, suggested angles and opinions whereas poetry and performance poetry somehow steps beyond the conventions and enables the performers to directly address the issue. It is almost preaching, in the best possible way, like a passionate sermon of depth and lyrical quality, that moves your thoughts and spirit to question your own behaviour, beliefs and self.
The audience helps to create what happens, not through an improv technique, but through our very own, genuine lives getting in the way of the show. Someone's mum might call, we are encouraged to answer. This is the honesty of the piece. We are asked to text one another, to 'phone each other and leave messages, to arrange to meet up some time in the future. We become the piece in a way that is so aptly reflective of the subject matter; us.
There is no better way to talk about the human condition than to do so through the very people you are talking about. Audience participation often leaves people with a sense of dread, but that is completely unnecessary in this case. The performers and the piece itself are warm and welcoming. With strong, firm voices, complete reassurance and total trust, they guide you through the piece, creating a sense of community and intimacy, in an expertly carved balance.
Perfectly executed, funny, moving, and personal, this is a very clever, skilfully crafted piece of performance. If this is the future of performance poetry, in union with the boundary questioning nature of contemporary theatre, then we are most definitely heading in the right direction.
Reviewer: Liz Allum