I Wish My Life Were Like A Musical
Alexander S Bermange
Fane Productions
Crazy Coqs Live at Zedel
–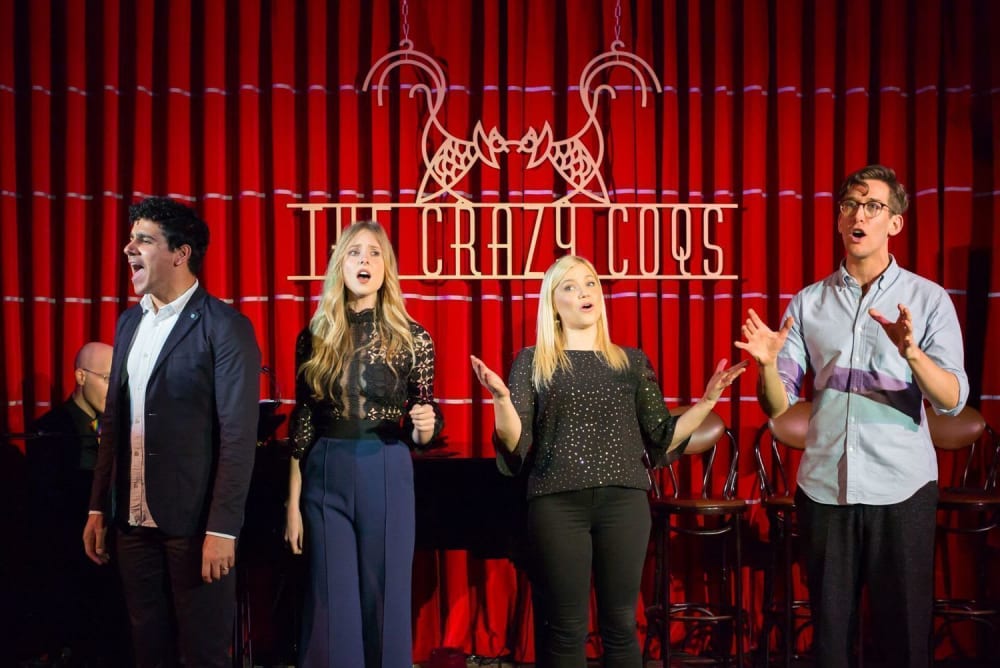 With its red curtains, mirrored ceiling and mood lighting, The Crazy Coqs oozes theatricality. It's appropriate therefore that a revue show entitled I Wish My Life Were Like A Musical should begin its life in such a setting.
Providing a glimpse into the lives of performers, the collection of comic songs takes the audience behind the glitz and glam of the musical theatre façade and into the real world of audition nerves, understudies, big breaks and irritating divas. Running at only 80 minutes, the talented cast of 4 guides the audience from the "Opening Number" through to encore as of course, "You can't end a show without an encore".
With witty, camp and knowing lyrics, there's plenty to enjoy whether you're a casual theatre-goer or a hard-core fan. The characters and situations are broad brushstrokes but the stock nature aids the comedy and gains nods of recognition from the audience.
The format is a little repetitive as there are few duets or company numbers but each individual is certainly given a moment to shine with the varying styles a perfect showcase for versatility. There's a touch of Fascinating Aida, a nod to Noël Coward and shades of Sondheim and Schwartz in songs that chart excitement, rejection, frustration and dreams of stardom.
Highlights of the score include "Divas in the House" in which Susie Mathers joyously commands the stage, the painfully accurate "Audition" in which Diana Vickers lives each stage of the process and "A Sorry Story" from Oliver Savile where every excuse is utilised. "Only Then Can I Truly Perform", a tongue twisting, comedically pleasing turn from Liam Tamne, steals the show.
With a few lyric fluffs and awkward use of cue cards, the production perhaps needs a little fine tuning, particularly in the transition dialogue. As the individual performances are so polished, these minor errors are unfortunately magnified but likely to settle in the course of the run.
Treading familiar theatrical ground, I Wish My Life Were Like A Musical is outright fun with cast and audience in on the joke. The diverse songs are handled with style by the experienced cast and the lyrics ring true evidenced by the laughs, nods and occasional groans of the appreciative audience.
Reviewer: Amy Yorston