The BIG Secret Live 'I Am Shakespeare' Webcam Daytime Chat-Room Show
Mark Rylance
Minerva Theatre, Chichester, then touring
(2007)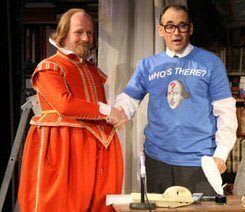 Rylance may have been Artistic Director of the Globe Theatre on Bankside for the first ten years of its rebirth, but he has never believed that Shakespeare really wrote all the work attributed to him, so why not conjure up some of Shakespeare's contemporaries and get their opinion on the matter?
A little difficult, you think, to converse with people who have been dead for four hundred years? Not a bit of it – we have modern technology – the world wide web is sure to find them – and so it does, at least in this very original and funny show, although to be honest it would benefit from a little pruning. Some sections of the show are almost as unwieldy as the title.
English teacher Frank Charlton (Rylance) has already been sacked from his previous post for doubting the authorship but, nothing daunted, he sets up his own chat-room internet show in his garage to pass his views on to the viewers – just supposing there are any. A storm – a flash of lightening upsetting the balance of time – and who should turn up to set the record straight but Shakespeare himself – a benign and beaming Colin Hurley- and, talking of records, he did wish he had kept some in the past. .
Frank's 'helpful' neighbour Barry Wild is Sean Foley – no stranger to foolery himself after The Play What I Wrote and Ducktastic - and both believe that someone is playing a joke, but finally convinced that this is the real McCoy, they want to spread the word and, in their excitement and anxious to have proof, they tape over a precious recording of Spartacus.
Shakespeare makes himself right at home in his new century, helping himself to a beer from the fridge (exit followed by a beer – don't ask!) and even wins the top prize in the Shakespearean pub quiz, but cyberspace hasn't finished yet and other claimants arrive with their arguments. Sir Francis Bacon (a beautifully spoken Roddy Maude-Roxby) is the first. He has the education and experiences which are often present in the plays. Teacher Frank decides that one of them must be cheating and sits them both down to sort things out, handing each a paper with phrases from their work. It is surprising how many expressions from one are almost mirrored by the other.
A flamboyant sword swinging aggressive Edward de Vere, Earl of Oxford (Alex Hassell) crashes through the door – his main claim seemingly that he has visited all the places referred to in the writing. Then – my favourite – Juliet Rylance as Mary Sidney. She lights up the stage – and the proceedings – as she puts her case clearly and rationally and with great vivacity. Well educated, aristocratic, and extremely accomplished in almost everything, this lady led the most important literary circle in English history but, being a woman, would not be allowed to publish work for the public stage. Shakespeare's women were, for the most part, as strong and independent as herself. Could she not at least have influenced Shakespeare?
The most fun was when the audience were involved and the claimants rushed up and down the aisles trying to convince people that their claims were genuine, and finally the audience were asked to vote who they believed was the true author. "What does it matter who wrote them?" asked Shakespeare, as he voted for Bacon.
Finally, after they had come to blows and the law had arrived in the shape of Sergeant Trevor Freeman (Sam Parks), another bolt of lightning sent them back from whence they had come and Frank, playing back the tape, found only the final scene of Spartacus. The audience took their cue. Cries of "I am Shakespeare" abounded from all areas as hands shot up to claim the title.
Co-directed by Rylance and Matthew Warchus, and with many of the Globe's creative team lending a hand, this is a fun evening, with some excellent acting, although it is rather long drawn out – a little more pace would not go amiss.
A final thought Shakespeare left this verse as his epitaph .But Did He Write it?
Good friend, for Jesus' sake forbeare
To dig the dust enclosed here.
Blessed be the man that spares these stones,
And cursed be he that moves my bones.
Touring to Malvern, Cambridge, Oxford, Coventry and Liverpool
Reviewer: Sheila Connor