I Was a Beautiful Day
Iain F. MacLeod
Alabaster Productions
Finborough Theatre
(2009)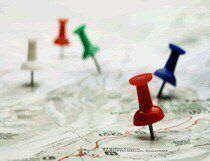 Young cartographer Anne goes in search of Scottish Gaelic place names for the Ordnance Survey and receives an unexpected spiritual education in Iain Finlay MacLeod's I Was A Beautiful Day. The plot, though fit for service, is far from original (the new generation clashes methods and attitudes with the old; after an exchange of hostilities both parties walk away enriched), and so it falls to the characters and cast to pull the play ahead of the pack.
Anne is a young career woman in a male-dominated industry, with a tendency to trample tact under the hooves of her own enthusiasm. Kirsty Stuart communicates the character's passion well enough that awkward moments following ill-advised remarks (about appearing "mental" and about how incredible the army's cartography division must be, both in front of shellshocked Gulf veteran Dan) rarely seem contrived.
Dan is a voluntary inmate in the Scottish hospital where the play takes place. He draws maps of Gulf missions and of his native Lewis to make sense of his past, because maps, as Anne discovers, don't just show where stuff is: they chronicle history, through evocative place names with fantastical backstories.
Robert Willox plays Dan with the deliberately curtailed movements and speech patterns of a man holding his trained violent instincts in check. The only time he appears calm and centred, as opposed to nervous and hostile, is when giving in to those instincts. Though I'm unfamiliar with the specific accent associated with the Isle of Lewis, Willox's accent seems a lot less polished that those of his co-stars.
Dan's countryman and recently downgraded fellow inmate Lube is the one unpredictable element in a predictable plot. Dressed in scruffy, mismatched tracksuit bottoms, half-untucked t-shirt and suit jacket, he's the antithesis of neat and tidy Dan, and proceeds to upset and rearrange the carefully ordered room that is Dan's world.
Lube blows hot and cold throughout, and for the most part Nicholas Karimi makes his topical and emotional U-turns believable, only appearing once or twice to coast through without internal justification. He provides some much-needed tension - his view of Anne as both Iago and sex object is especially sinister, and at one point seems likely to redirect the play's trajectory towards tragedy.
But ultimately Lube is more dramatic device than plot driver. Circumstances make Dan's requisite life-changing decision for him, and Lube's ill-conceived escape plan never seems a viable option to anyone but Lube himself.
MacLeod's love for the Gaelic language, its oral tradition and Lewis itself is clearly evident throughout the text. Unfortunately I Was A Beautiful Day is not the Finborough's current main show, and so it has to be staged on the set of Nigel Planer's Death of Long Pig, a Polynesian cabin with bamboo blinds and palm leaves growing through the rafters. The geographical dissonance would be less of an issue if the play's setting were not so thematically important.
For a play about passion, for maps or places or freedom, it's appropriate that the enthusiasm of the playwright and ensemble are easily enough to outweight the production's numerous but minor flaws.
Until 27 July
Reviewer: Matt Boothman