Icarus
Katrin Lange, translated by Purni Morell
Unicorn Theatre
Unicorn Theatre (Weston Theatre)
–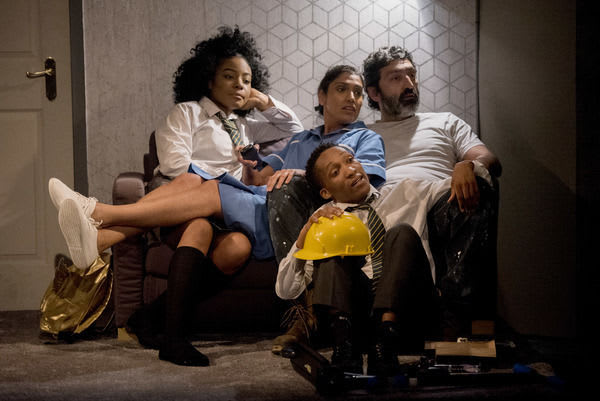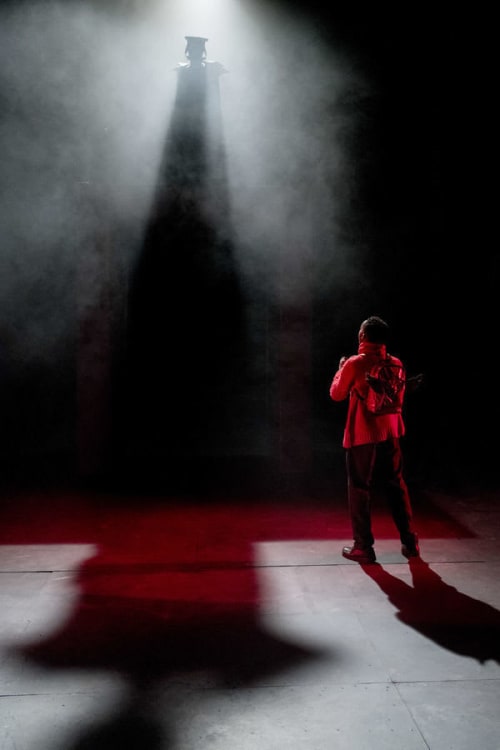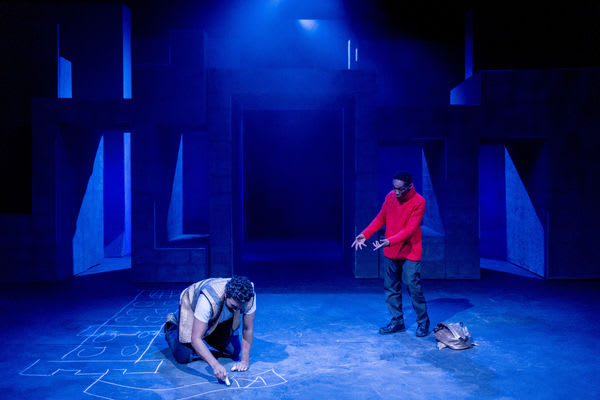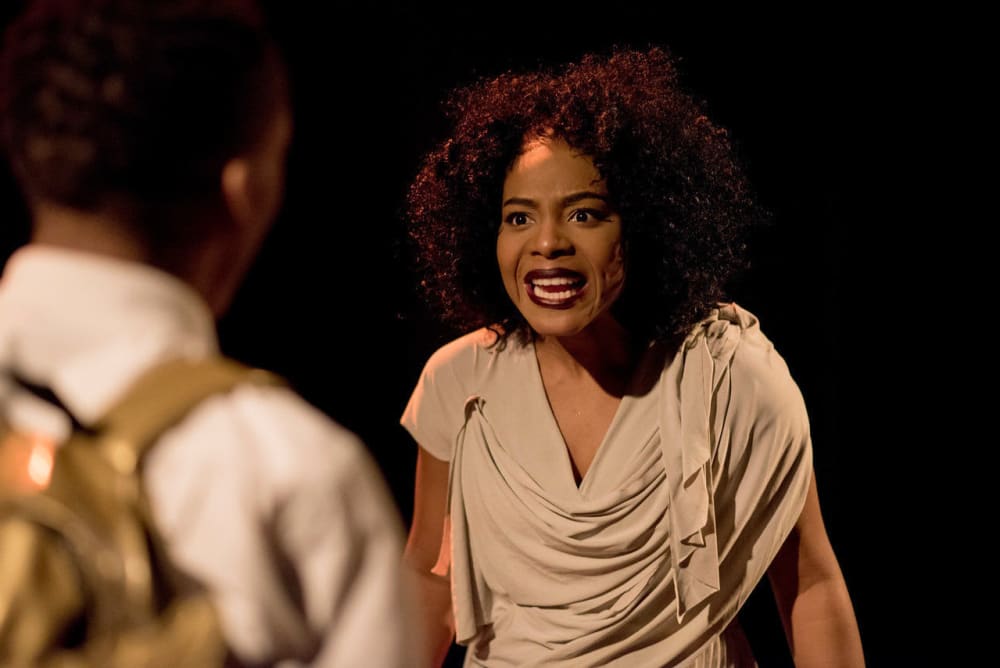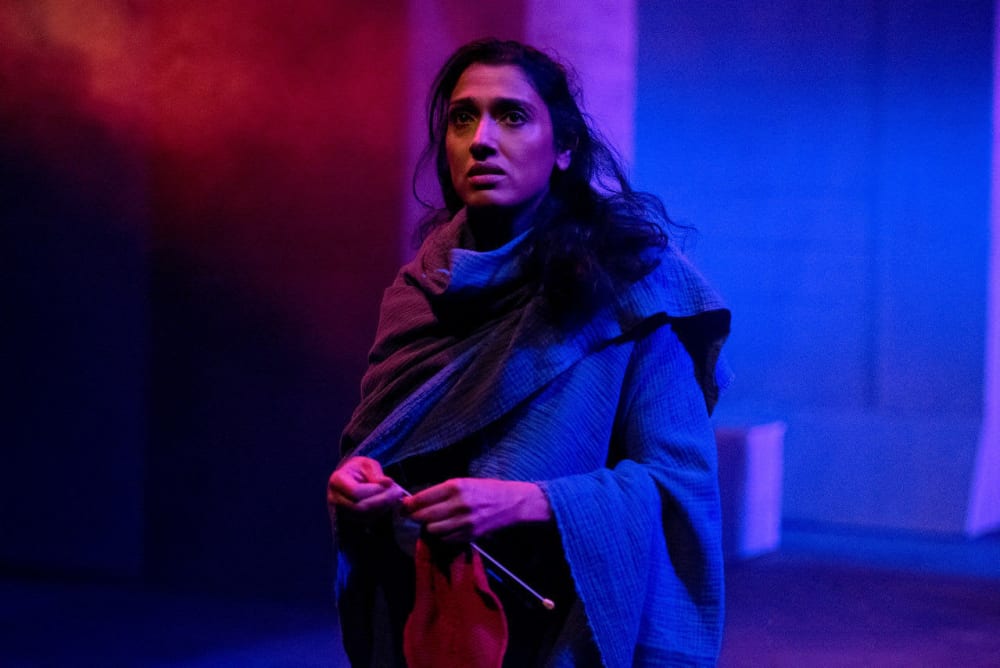 German dramatist Katrin Lange, who has won awards for her plays for young audiences, here presents her own version of the story of the story of Icarus, Daedalus's labyrinth and the Minotaur monster.
Cressida Brown's production gives it a monumental staging while still keeping an intimate contact between actor and audience.
It begins with a rapid sequence of mime scenes in which Icarus and his family all lay claim to a place on the sitting room sofa that suggest a happy family growing up but then dad Daedalus goes away overseas, where the work is. There's been no news from him since he arrived in Crete and that was long ago. He hasn't sent any money home either. Icarus decides he is going to go to Crete and find dad.
As in the traditional story, Daedalus is both architect and builder of a labyrinth for Cretan King Minos. It is the home of what people have been told is a monster: the Minotaur. To preserve the labyrinth's secret, Daedalus has not been allowed to communicate with the outside world.
Icarus does find his father and explains him to his royal master as the son he is training who will assist him but when presented to Minos Icarus speaks boldly, despite the guards and the oppressive atmosphere, his behaviour impressing the King's daughter Ariadne.
Daedalus, already being made to work on a tall tower which he must make for Minos, won't reveal the labyrinth plans to Icarus but the lad suddenly realises where they are recorded and it is he who makes his way into the labyrinth to meet with the "monster" who isn't.
The Minotaur, half human half animal, can converse with all kinds of creatures. With the knowledge they give him, he warns of a coming disaster, one reason why Minos has confined him, to prevent panic among the people.
It is Icarus who gives Ariadne the thread that will lead through the labyrinth so that she can reach the "monster" who is her brother. But how will Icarus and Daedalus escape from Crete? As in the legend, Daedalus fashions wings with which to fly away and, though Icarus's feathers fail him, this version, combining part of the legend with the eruption of Thera that destroyed the Minoan civilisation, has a happier ending.
For those familiar with Greek myth, it is an intriguing reworking of an old story; for newcomers, it's an adventure in which the young audience I saw it with were totally engaged, becoming enthusiastically involved and clearly identifying with Marshall Defender Nyanhete's lively Icarus as he faced the shadowy figure of menacing King Minos. The little wings on Icarus' backpack prefigure his flying, a symbol of his already free, adventurous spirit.
As Daedalus, Selva Rasalingam is the confident architect-builder, sketching out a design for a high tower on the paving but also the kind of dad any lad would wish for, turning up to help just when he is needed.
Rayxia Ojo plays both sister back home and Princess Ariadne, told by her father to punish young Icarus but who proves warm and caring when she takes off her golden mask, and Arinder Sadhra couldn't be more different as both Icarus's mother and the tyrant King Minos.
The Minotaur, a dark shape with a bull's head formed of multi-facetted mirror, is voiced by Rowan Davies-Moore, who also provides some brief narration, his young voice identifying him with the target audience.
Lucy Sierra's shape-changing set is imposing, made even more dramatic by Ziggy Jacobs-Wyburn's lighting with the maze represented both in its multiple spaces and picked out in strip lights. Jon McLeod sound score also makes a great contribution in building drama and tension.
Cressida Brown's direction ensures clear storytelling and a dramatic combination of theatrical elements full of telling moments whether the guards smashing Icarus's scooter or the evocative recounting of Icarus's rescue.
Played without interval, Icarus held a packed house of school parties for an exciting 90 minutes, and me too.
Reviewer: Howard Loxton