The Icons of London
Performed by Greg London
Produced by Icons (UK) Ltd
The Venue
(2007)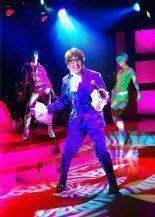 This is billed as both a West End debut and a homecoming for Las Vegas showman Greg London. As well as having lived here for a while in his youth, he has the distinction of being the great-grandson of Marie Lloyd, the popular music hall entertainer of the late 19th and early 20th centuries. Berated for her risqué performances ("I sits among the cabbages and peas"), Grandma Lloyd would have had much in common with her descendant's portrayal of the innuendo-laden Austin Powers. But she would surely also have been entertained by his rendition of a plethora of modern icons. London wheeled out some of the really big guns - Elvis, Sammy Davis Junior, Johnny Cash, Louis Armstrong, David Bowie and Neil Diamond, to name a few - I gave up counting after about twenty.
The West End has been awash recently with shows that are composed of artists doing impressions of iconic singers (The Rat Pack, Dancing in the Streets). What makes this production work so well is that London, along with writer Paul Miller, has successfully created a personal narrative to bring the disparate characters together using the story of his own attempts to gain a foothold in the music industry.
He is refreshingly honest about his early days when the head of Capitol Records told him his voice was nothing special and neither were his impressions ("We'll call you if Rod Stewart dies!"). The unusual part of the show comes next when London explains he heard the voices of his favourite singers in his head - Elvis, Johnny Cash and Kermit the Frog, suggesting he do impressions of them, rather than create his own sound. The "voices" are of course his own, pre-recorded, so he is able to converse with his icons on stage. Arnie Schwarzenegger is the only non-singer in this repertoire (who complains bitterly about his bit-part in the proceedings. 'I only get to say "I'll be back"').
Faced with a good voice that lacked distinction, London took their advice: "Why would I want to sound like me, when I can sound like them?" In many ways the voices were right. Though slight of physique, London has a powerful voice and the stronger the singer he is impersonating, the better he seems to get.
If this all sounds too surreal for a Vegas-type show, it isn't. London doesn't make the mistake of taking himself too seriously and even if he did, his backing singers (Nina Millns, Abigail Rosser and Lucy Thatcher) and his grumpy bass player, Danny Leoni, bring him back down to earth with their sceptical interjections. He has the sense to send both himself (and some of the icons) up. Neil Diamond and Tom Jones take a slight battering for the lyrics in their songs with a special barb reserved for Diamond: "he writes about nothing and makes it sound profound"! And poor old James Blunt gets a dodgy wig and is labelled miserable.
Though London made his name playing at corporate conventions in the States and Las Vegas, he attempted to tailor the show to an English audience, adding Sir Cliff (or Clive) Richard to the off-stage voices and forcing the backing singers to sing Julie Andrews. I'm not sure how necessary this was and, if anything, the English voices detracted from the glitzy Vegas tone of the show. It was, however, a stroke of genius to pair Ozzy Osbourne with Kermit the Frog in a duet. Admittedly Ozzy didn't contribute much but, as the Prince of Darkness, he didn't feel right about singing "Rainbow Connection"!
Directed by West End veteran David Taylor, the show was carefully balanced between big numbers (Tom Jones 'It's not Unusual') and thoughtful ballads ('How can I mend this Broken Heart' by the Bee Gees). Both the first and second acts ended on crescendos ("YMCA" and Elvis's "If I can Dream"). However, I wondered at the necessity of having the star leave the stage for a costume change early on in the second act, forcing the three backing singers to handle a large chunk of the show. But London's climactic performance as Elvis was worth waiting for. Elvis is clearly London's greatest hero and though not a perfect physical match, he was vocally accurate and, more importantly, caught his charisma and his ability to connect with the audience.
The Venue was a good theatre to choose for this show - intimate but allowing enough space for a bit of Vegas splash. London's mix of showmanship, humour and all-important Icons should do well in his namesake city.
Reviewer: Bronagh Taggart