Ida Barr: So This Is Christmas
Written, produced and performed by Christopher Green
Barbican Pit
(2008)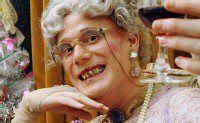 Man dressed as a woman - check
Audience participation - check
Innuendos a-plenty - check.
All the necessary ingredients for your typical Christmas show, except Ida Barr: So this is Christmas is anything but your typical Christmas show.
Christopher Green is back at the Barbican again with another wonderfully surreal and completely unique Christmas show. For Christmas 08 he comes under the guise of Ida Barr, an established music hall performer. After working in the industry for over fifty years she has now embraced youth culture and imaginatively worked rap and urban beats into her repertoire - innit!
Highly influenced by her recent discovery of urban culture, Ida Barr's dialogue is a strange mix of affected RP and street lingo, as she "arsks" the audience questions, and pretty much gets her freak on.
With DJ Godslove Mensah to her right, Ida Barr entertains the crowd with various songs including a little ditty about a shopping trip to Dalston set to the classic tunes of Missy Elliot and Eminem. If it's possible, So This Is Christmas is a camper version of the Graham Norton Show. Like a chat show, she sits by her fireplace with a plasma screen inside telling us what's in store for the night. A mix of stand-up, songs, guests and of course audience participation all comes together in a weird and wonderful way to create this Christmas extravaganza.
On paper it sounds like a hideous disaster - music hall drag queen, bringin' down the house with topical rap, accompanied by a magician and a singing impersonator; however it works. Yes, it could do with tightening up a little and some segments go on slightly too long but overall this Christmas show (which certainly is not for all the family) manages to entice Christmas joy from even your most cynical Londoner.
Forget your pantomimes and their fairytale stories of magical kingdoms, this year it's all about keepin' it real and gettin' down with your bad self for a "wiki wicked" Christmas at the Barbican.
Until 23rd December
Reviewer: Rachel Sheridan