An Ideal Husband
Oscar Wilde
Royal Exchange Theatre, Manchester
(2007)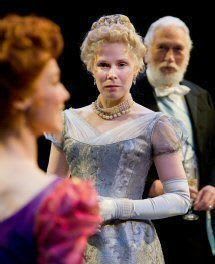 The Royal Exchange Theatre, which always presents a lighter adult play for Christmas rather than the more prevalent family festive fare, this year gives us Oscar Wilde's An Ideal Husband for Christmas, directed by artistic director Braham Murray.
Sir Robert Chiltern, supported by his morally strict wife Lady Gertrude, is a rising star in British politics who is about to expose a scheme to invest in canals as a fraud. However Lady Gertrude's former schoolmate Mrs Cheveley returns from the continent to persuade him to reverse his position, armed with a letter that proves he obtained his first step to success by dubious means. Helped by his friend Lord Goring, whose father the Earl of Caversham is trying to persuade to get married, get a job or do something with his life, Sir Robert tries to defeat the scheming, self-serving Mrs Cheveley.
In the roles of Sir Robert and Lady Chiltern, Simon Robson and Rae Hendrie come over as a rather dull couple, which may be appropriate for a politician and his wife (certainly in Lord Goring's view and quite possibly in Wilde's) but as they probably get the most stage time there are long sections of the play that drag quite a bit.
Fortunately Milo Twomey as Lord Goring, who is the central character to the plot in many ways, is rather more lively and perfectly natural with his delivery of all but the most contrived of Wilde's witticisms. Twomey makes the play come alive whenever he comes on stage, as does Claudia Renton as the childish and completely self-obsessed Mabel Chiltern, Sir Robert's sister and ward and the object of Goring's shy affections. Goring and Mabel are both very proud to be young, frivolous, rich and unemployed and to shun any moral or family duty, but Goring often cuts through the self-aggrandising and pompous moralising with simple good sense that sorts everyone else's problems out for them.
West End musicals star Joanna Riding gives just the right touch of acid to Mrs Cheveley, delivering her orders with a confident, self-satisfied smile. As the older generation of characters, Ann Firbank and Jeffrey Wickham as Lady Markby and the Earl of Caversham create wonderful funny and endearing but believable characters and deliver Wilde's lines perfectly.
There was quite a bit of visible yawning in the packed auditorium and at least a couple of people were asleep in the first half; I would agree with the lady behind me when I was leaving the theatre who said "the second half was better", partly because it was shorter and partly because we saw a lot more of Goring and less of the dull Chilterns.
There is some really great comedy and some superb performances from many of the cast, but rather too much of the play seems to forget that it is a comedy and turns into a bit of an endurance test, something that we see rather too often at the Royal Exchange. This is a shame as there is so much of this play that is well worth seeing; perhaps there will be some improvement if the pace picks up during the run.
As a post script, anyone who, like me, parks on the GMEX car park for some city centre theatres should be aware that the evening rate has gone up from £6 to £10. There is still a stepped hourly rate below this, but it still meant I paid £8 for parking to see this show, which is an increase of 25% on what I paid just a couple of weeks ago.
Running until 26 January 2008
Reviewer: David Chadderton