If I Die on Mars
Clarice Montero
Queen Mary Theatre Company
theSpace @ Venue45
–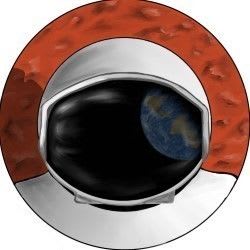 The settlement of the nearest planet to Earth has been the stuff of science fiction for over a century, but in the last 20 years the possibilities for science to allow humans to walk on Mars have become teasingly real. With that in mind, Queen Mary Theatre Company has constructed a fictionalised account of one such programme. We meet the five hopeful astronauts and hear a little about them from themselves, family and friends; the logistics of the mission are discussed and the very real possibility of them dying on the way or never returning is turned over and over.
If I Die on Mars is an engaging, if slightly disparate piece of theatre. Jumping through several different styles and changing narrators often, it holds the interest of the audience for the whole of the runtime. It does however also struggle to find its feet a little. The changing segments of the play, the astronauts, later the voters and the narration aren't clearly enough defined to prevent some momentary confusion. There's also the side effect that you're never sure what the play is trying to be or to say.
From a technical standpoint, the performance is always interesting, as the non-speaking actors will manipulate torches and stools to represent spacecraft or starry landscapes on the shadowy stage, moving around the space to ensure that the the banks of chairs sat around them are all catered towards.
Ultimately, it's a play that has rather a lot of ideas inside it, but not quite enough of a narrative through-line to really make it stand out amidst the Fringe crowds. One for the space buffs certainly.
Reviewer: Graeme Strachan