If Only: An Audience With Rudyard Kipling
Lynn Pegler
Matt Jones and Lynn Pegler
Arthur Conan Doyle Centre
–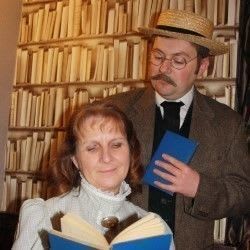 There's a strange phenomenon in the Edinburgh Fringe, whereby the farther from the centre of the traditional Fringe you move, the brighter the rooms in which plays take place seem to be.
Considering that there are plays being staged now as far out as Palmerston Place, far out beyond the Royal Mile and nearing the dark commercial streets surrounding Haymarket Station, one feels that this play could well have been staged on the moon. That said, there was a robust audience of elder women and fellows, keen to see some Kipling.
They were not disappointed, and indeed, neither was I. Lynn Pegler's script sees the audience brought on a journey through the life of the celebrated author and poet, from his early days in India to his latter years and eventual death in England, and all of his many travels and adventures in writing throughout.
The play is also peppered with fragments of his writing and poems read complete, and it's through this poetry that the piece conceives a clever framing, as we open on an extemporal introduction of the man, and his verse If being voted the Nation's Favourite Poem. Upon reading the first line, Matt Jones's Kipling scoffs gently at the relative unimportance of the work, and yet the entire play seems to build upon it, until in the closing moments it is read in full, marking how much each line was a totem carved from the pain and pleasures of his life.
The play itself was certainly pleasant and entertaining. The performances given by Jones and Pegler were enthusiastic, if a little blunt, and, although unpolished, retained a warm and welcome charm. However, one does wonder at how much more powerful this piece might have been in the hands of other performers.
Jones is a stoic and occasionally dryly sarcastic Kipling, while Pegler plays myriad supporting roles in a series of geographically indistinct accents. Yet this didn't hamper the piece unduly, and the production will no doubt please Kipling enthusiasts and novices alike.
Reviewer: Graeme Strachan