If That's All There Is
Created by Inspector Sands
Commissioned by the Lyric Hammersmith.
Battersea Arts Centre
(2010)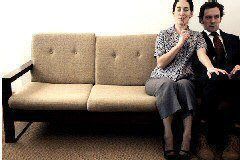 At the world's most uninspiring wedding, the monotone bridegroom relentlessly includes lists in his speech to the well-wishers, whilst the bride descends into silent horror at the reality of the man she as married. When a shot rings out, fantasy and reality blur as Inspector Sands take us on a journey through delusion, romanticism, mundanity and the effortless human beauty of the unfolding moment.
Pre-wedding and the fiancé Daniel (Ben Lewis) is worried about Frances, his bride to be (Lucinka Eisler). As she wipes chopped onions over her face, watches Spanish soap-operas and screams as she dances, he makes powerpoint presentations to resolve the seating arrangements. As Frances searches desperately for something more to feel, Daniel seeks the help of an innovative counselor (Julia Innocenti) to help him understand his fiancé's behaviour.
And this is the most whacky, brilliant therapy you'll ever receive. Whether dressing Daniel up like a cowboy, throwing popcorn at him or running away from him round the stage, Innocenti is amazing, in her subtly comic eyes alone. What makes her even more brilliant is her transformation into the awkward work experience girl, Christina, who joins Frances at work and endlessly photocopies while taking in her bosses' fascinating behaviour with wide eyes. Innocenti is a mesmerising performer, as are Lewis and Eisler, and this company can hardly be rivaled in their comic mastery of the perfectly timed moment.
What Inspector Sands do so well is to make this show both insightful about the mundane reality of life, whilst combining it with brilliant flights of absurd fantasy which only go to distil the essence of the moment down further to hit the spot. On a sparse set, with essentially a desk, a sofa and a photocopier the three performers manage to embody work, rest and therapy with brilliant destruction.
As the piece progresses the set is finally strewn in chaos and our trapped lives are both lovingly, and humanely set before us. Not only that, but they manage to also make comment on the state of society today. As Christina reads out a questionnaire on 'perceptions of your quality of life experienced today', you begin to find your own potential fears of crime and violence explored in the most hilarious way.
Devised by the company, and developed both in rehearsal and as it has toured since Edinburgh last year, it shows that Inspector Sands will always be one to watch. This gem of a show powerfully reflects our own empty hopes while exposing our repressed fears. And yet you walk away from it immediately comparing notes on the scenes which made you laugh the most. What more could you want? Tell all your friends, and go and see this now.
Reviewer: Sacha Voit