If You Know Your History
Jo Shoop
Theatre Royal Stratford East
(2010)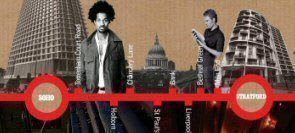 Following on from last years Central Lines new writing collaboration with Soho Theatre, the Theatre Royal is presenting another two-week season o showcasing our new plays in development. They are The Orgy of Outrage by Chris Lee, a tale of two women haunted by past choices which opened the season on 2nd June; If You Know Your History (reviewed here) and next week Estate Walls by Arinze Kene about a trio of friends on a Hackney estate and Skin by Tash Fairbanks and Toby Wharton about a young guy who has been abandoned by others all his life and now finds his dad back trying to make up for the past.
I've only been able to sample one: Jo Sloop's play about a group of Tottenham Hotspur supporters. The performance turned out to be a semi-staged reading, which is not quite what either press release or publicity suggested and I think it is only fair on punters that the theatre should make that clear.
This isn't a study of football hooliganism but the intriguing tale of fanatical Spurs supporters so determined that their club shall come out top of the league that they kidnap two of the star players for their biggest rival Chelsea to improve its chances. There is an older man the others call 'uncle' (played by Jack Chissick), twins who may be his real nephews, one of whom is rather wild and has already had a brush with the law (Craig Power) and the other more responsible (Stephen Lloyd), and a black father of five (Craig Storrod). Damien Hughes and Dwayne Hutchinson play the footballers and Alice Fernbank a Guardian reporter and Uncle's daughter with some support from unnamed actors as offstage police and voices on television.
The play starts with the lads already holed up with their prisoners in a remote farmhouse in Wales. We never discover how they managed to pull off the kidnap and the play is mainly concerned with their reactions to each other and their prisoners but there is a strong condemnation of the ethos of the game today. 'The spirit of the game! Long gone! Money is the only spirit of the game now!' they declare and go on to quote pay and transfer fees their captives can command. There is a glance at racism, at the conflicts of sibling loyalty as well as those of the group, even an inherent criticism of our education system in someone with A levels in Media Studies having so little understanding of the way that journalism works today - but no one ever seems to question whether nobbling the opposing team is in the 'spirit of the game' and we get almost nothing of the players' views.
I'm not a footie fan but I do have nostalgia for the days when teams were genuine local teams, the squad recruited from the local area, when the Matthews and the Charltons were known for their skill on the field and not as fashion icons and part of the celebrity circus. It is very easy to identify with the frustrations of these long-standing fans less easy to find any justification for their actions: this is not a protest but a piece of sabotage.
I think it was probably the actors rather than the text itself that almost put you on the side of the kidnappers. They brought out their vulnerability. The fact it was a reading did not prevent most of them from giving strong performances, though it was rather unimaginative of director Christian Hogas to keep them for most of the time lined up behind a table with the two captives on chairs in a straight line with them.
Shoops previous experience is largely in film and this has the stamp of a script originally designed for cinema or television, an impression reinforced by the poorly delivered stage directions which seemed particularly cinematic. That doesn't mean it could not be staged effectively but whatever the medium it needs tightening - cutting some of the use of 'fuck' could be a start - or is that supposed to be comedic? There is certainly a strong strand of humour running through this and the could easily escalate into farce - I couldn't help wondering how these blokes were coping with no women to cook and run things for them and unable to order take-aways - that would push the ensuing violent drama - and this play has a tragic dimension, into highlighted contrast.
Ended 5th June but "Estate Walls" is 9-10th June and"Skin" 11-12th June 2010
Reviewer: Howard Loxton