Il barbiere di Siviglia (The Barber of Seville)
Gioachino Rossini, libretto by Cesare Sterbini
Garsington Opera
Garsington Opera, Wormsley
–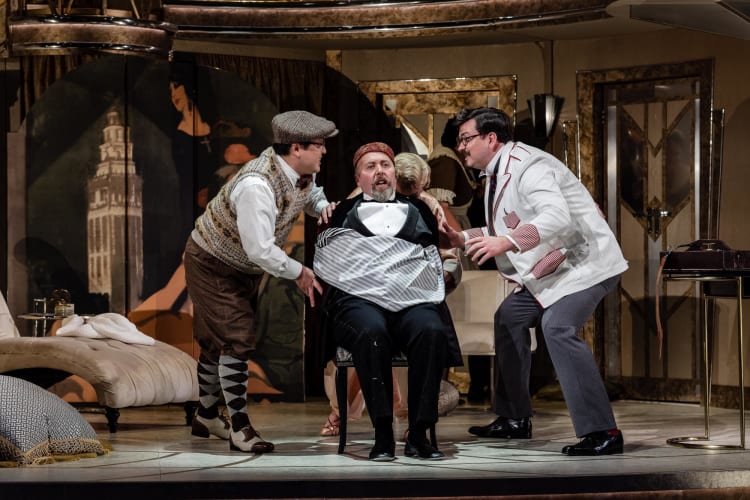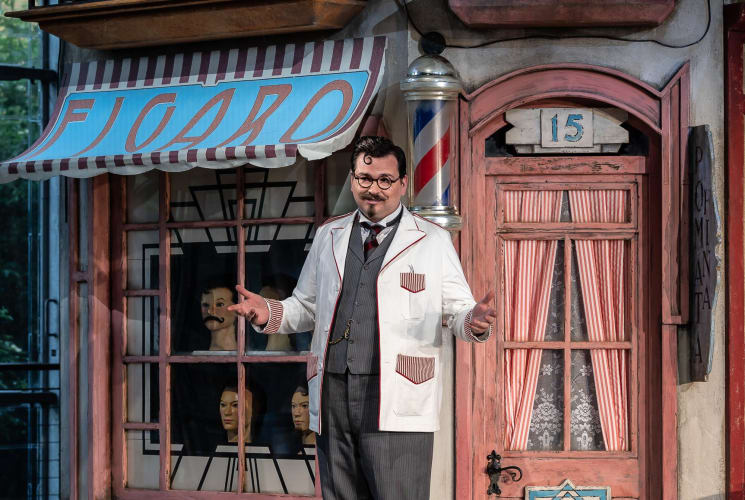 Christopher Luscombe's production is set in Seville in 1929. Simon Higlett provides a colourful street and an elegant art deco interior. The English Concert is conducted by Douglas Boyd, Garsington's artistic director. Johannes Kammler's Figaro makes his entrance on a bicycle.
Rossini's exuberance can make for a delightful evening's light entertainment. With the right cast. Dashed off in less than three weeks, it had a disastrous first night in Rome in 1816. The strings of a guitar broke, a singer tripped over a plank and got a bloody nose. A cat walked across the stage twice. The audience laughed, whistled, hissed and meowed. They made such a racket in the second act that scarcely a note was heard. It was said the claque had been orchestrated by Giovanni Paisiello, who had written an opera on the same subject 38 years earlier.
Count Almaviva falls in love with Rosina, the ward of Dr Bartolo, and pretends to be a poor student so he can court her. He then disguises himself as a drunken soldier (with a forged billeting order) to gain entrance to her home and frustrate Bartolo's plans to marry the girl himself. When this attempt fails, he returns disguised as a music teacher.
I have seen funnier performances. Andrew Stenson's immature Almaviva never feels right and neither does Katie Bray's hardboiled Rosina. With her bleached blonde hair and silky attire, Bray looks like a heroine in a film noir. Richard Burkhard and Callum Thorpe are much more convincing as Bartolo and Don Basilio.
The Barber of Seville (1775) and The Marriage of Figaro (1784) have been almost totally eclipsed by Rossini and Mozart respectively. I know of no professional production in English of The Guilty Mother (1796), which was said to be one of Napoleon's favourite plays. It would be fascinating to see Beaumarchais' trilogy acted within its historical context and given its proper political significance
Garsington Opera's Il barbiere di Siviglia can be viewed free on the OperaVision channel.
Reviewer: Robert Tanitch