Il Barbiere Di Siviglia
Gioachino Rossini, libretto by Cesare Sterbini
Met Opera on Demand
Metropolitan Opera House, New York
From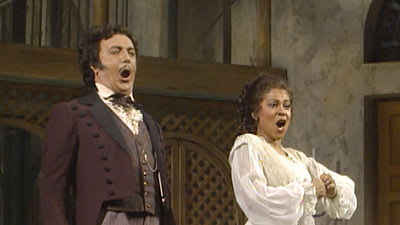 Gioachino Rossini's masterpiece, dashed off in less than three weeks, is perhaps the greatest of all comic operas. It had a disastrous first night in Rome in 1816. The strings of a guitar broke, a singer tripped over a plank and got a bloody nose. A cat walked across the stage twice. OMG.
The audience laughed, whistled, hissed and meowed. They made such a racket in the second act that scarcely a note was heard. It was said the claque had been orchestrated by Giovanni Paisiello, who had written an opera on the same subject 38 years earlier.
Well, one thing's certain. Today, nobody has heard of Paisiello. And everybody has heard of Rossini. Musically and physically, The Barber of Seville is a delightful evening's entertainment.
This performance, directed by John Cox and conducted by Ralf Weikert, was seen at The Met in New York in 1988. The cast includes Kathleen Battle as Rosina, Rockwell Blake as Almaviva, Leo Nucci as Figaro, Enzo Dara as Dr Bartolo and Ferruccio Furlanetto as Don Basilio.
Count Almaviva falls in love with Rosina, the ward of Dr Bartolo, and pretends to be a poor student so he can court her. He then disguises himself as a drunken soldier (with a forged billeting order) to gain entrance to her home and frustrate Bartolo's plans to marry the girl himself. When this attempt fails, he returns disguised as a music teacher.
Leo Nucci's Figaro is a barber of quality. With a big winning smile and loads and loads of charm, plus a great voice, he gets the production off to a terrific start with the most famous patter song in the world.
But Figaro is not the leading role and it is Almaviva, Rosina and Dr Bartolo who have to carry the comedy and carry it Rockwell Blake, Kathleen Battle and Enzo Dara most certainly do. They are all expert comedians and could be in Beaumarchais' farce.
Rosina is the sweetest minx who knows what she wants and intends to get it. Battle dazzles. Dara's Bortolo is very droll and Blake's Almaviva, in and out of disguise, is a bon viveur.
The vocal virtuosity of the comic sextet is a breathtaking tour de force and the incredible speed at which it is taken leaves the audience breathless. "What a terrible racket!" they sing. "If this goes on, I'll go insane!"
Beaumarchais' play was the first in a trilogy of comedies written over twenty years, covering the intrigues and love affairs of an aristocratic family and their servants, both before and after the French Revolution. In Britain, The Barber of Seville (1775) and The Marriage of Figaro (1784) have been almost totally eclipsed by Rossini and Mozart. I know of no professional production in English of The Guilty Mother (1796), which was said to be one of Napoleon's favourite plays.
It would be fascinating to see the trilogy acted within its historical context and given its proper political significance.
There are a number of ways of tapping into this opera and others at will. The Met Opera on Demand service offers annual ($149.99) and monthly ($14.99) subscriptions as well as a one-off payment ($3.99) for those who have limited time or only want to watch the occasional opera.
Reviewer: Robert Tanitch