Il Barbiere di Siviglia
Gioachino Rossini, libretto by Cesare Sterbini after Beaumarchais
Vienna State Opera
Vienna State Opera
–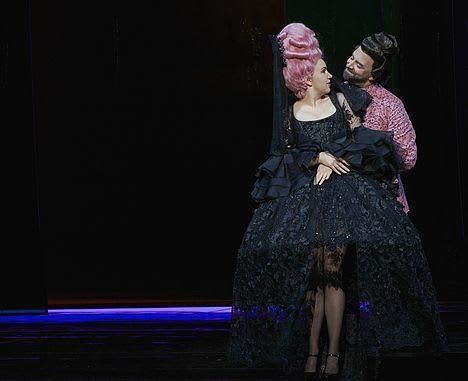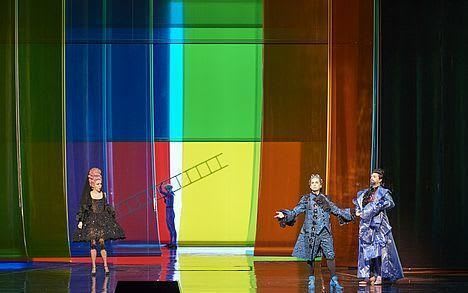 With its virtuoso exuberant score, its bravura solo arias and its intricate ensembles, Gioachino Rossini's masterpiece, dashed off in less than three weeks, is the greatest of all buffa operas.
Il Barbiere di Siviglia had a disastrous première in Rome in 1816. The audience laughed, whistled, hissed and meowed. They made such a racket in the second act that scarcely a note was heard.
220 years on, its sparkle and wit, verbally and musically, are undiminished. The verbal pyrotechnics amaze. The high spot, as always, is the sextet at their wits end in the climax to act 1.
Herbert Fritsch's 2021 production, conducted by Michele Mariotti at the Vienna State Opera, is a staged concert performance. There is no set as such. There are screens and curtains which move up and down and across, constantly changing colour.
The cast is excellent. Étienne Dupuis as Figaro gets the opera off to a jolly start, playing up to the audience and lapping up the applause.
Count Almaviva (Juan Diego Flórez) falls in love with Rosina (Vasilisa Berzhanskaya), the ward of Dr Bartolo (Paolo Bordogna), and pretends to be a poor student so he can court her. He then disguises himself as a drunken soldier to gain entrance to her home and frustrate Bartolo's plans to marry the girl himself. When this attempt fails, he returns disguised as a music teacher.
All the singers are excellent comic actors and don't need the overload of comic business Herbert Fritsch has foisted on them. A case in point is when Don Basilio (IIdar Abdrazakov) is giving a witty account of how a rumour can explode into a full-scale scandal and what he is saying is completely upstaged by what he is doing.
Vienna State Opera's Il Barbiere di Siviglia can be watched free on the Arte Concert channel.
Reviewer: Robert Tanitch