Il matrimonio segreto
Domenico Cimarosa, libretto by Giovani Bertati and Franco Donatoni
Teatro Regio di Parma, Ópera de Tenerife and Teatro Massimo di Palerma
Teatro Regio di Parma
–

Listing details and ticket info...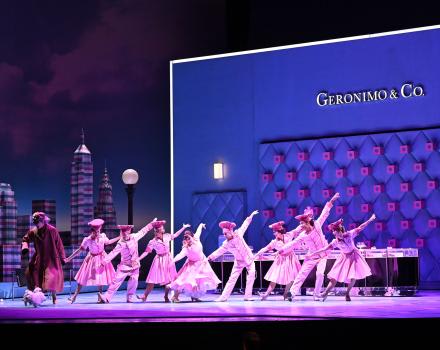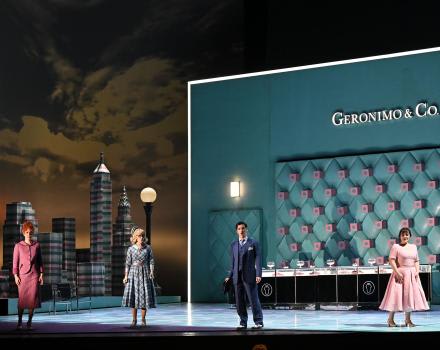 Domenico Cimarosa (1749–1801) was the most popular opera composer in the late 18th century and much admired by Goethe and Stendahl. Il matrimonio segreto premièred in Vienna in 1792. Emperor Leopold II liked it so much he invited the singers to dine with him and then sing it all again. The opera proved hugely popular and was widely performed.
Roberto Catalano's production, conducted by Davide Levi, premièred at Teatro Regio di Parma in February 2023 and is a co-production with Ópera de Tenerife and Teatro Massimo di Palerma. A youthful cast give the characteristic opera buffa nonsense a delightful performance. I am surprised Il matrimonio segreto is not performed more often.
Catalano has updated the action to the 1950s and set it in New York. Rich merchant Geronimo now runs a high-class cake boutique and Paolino is no longer a business associate but a humble delivery boy. The English aristocrat has been turned into an Italian count. There is a chorus of chefs in brightly coloured pink uniforms who also act as stage-managers.
Geronimo (Francesco Leone) has two daughters, proud Elisetta (Marilena Ruta) and saucy Carolina (Giulia Mazzola). Unbeknown to him and everybody else, Carolina has secretly married Paolino (Antonio Mandrillo). What she sees in him is not clear. He is so immature.
Geronimo has arranged for Elisetta to marry a count (Jan Antem) but the count does not want to marry her. He wants to marry Carolina. Things become more complicated when Caroline's aunt (Veta Pilipenko) thinks Paolino is in love with her.
The music feels Mozartian and anticipates Rossini. The music is a continuous pleasure and there are many high spots, including a duet when father and suitor discuss a substantial dowry.
Carolina pretending, with sly mock-naïveté, to be a little girl and nothing more, is charming. The Count's two patter songs, when he produces a ridiculously long list of his faults and then follows it with an equally ridiculously long list of his ailments in a desperate bid to put off Elisetta wanting to marry him, are very funny.
It's unbelievable in Catalano's production that he would ever marry the awful Elisetta. But he does in the end. It's not the happy ending the audience wants. Many will want him to marry Carolina. He has so much more personality than Paolino.
Teatro Regio di Parma's production of Il matrimonio segreto can be watched free on the OperaVision channel and is recommended to all those who are looking for something light-hearted and melodic.
Reviewer: Robert Tanitch