Il Paria
Gaetano Donizetti
Britten Sinfonia, Opera Rara
Released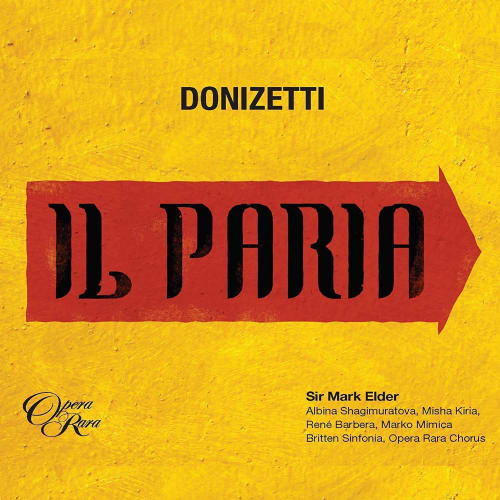 This is a real gem for lovers of Donizetti opera or indeed any bel canto work. Although fairly early, it is clearly the work of a master using his talent and imagination to find a way forward and produced just a year before his great international success of Anna Bolena.
The opera is set in 16th-century India and is a powerful and moving story of impossible love, social barriers and religious intolerance. Il Paria was commissioned for a royal gala in Naples where it was first performed in January 1829.
Whilst not an overwhelming success at its première, Il Paria was an opera to which Donizetti gave considerable attention and of which he was particularly proud and there is great variety and melodic invention where the voices are taken to the very limits of what they can do.
Returning to Opera Rara following the multi-award-winning recording of Rossini's Semiramide, the Russian soprano Albina Shagimuratova leads a stellar cast including René Barbera, singing one of the most demanding roles ever written for tenor, and the talented Georgian baritone Misha Kiria in the title role.
Shagimaratova as Neala, the sun priestess was described by Classical Source as "absolutely brilliant from the very start" and she sings with great beauty over a very wide range with immense flexibility.
René Barbera as Idamore successfully tackles this most demanding tenor role which he describes as "at the high end of the spectrum" and "beautiful but very hard". Misha Kiria in the role of Zarete, the eponymous pariah, has one of Donizetti's greatest baritone roles.
This is Opera Rara's 26th complete Donizetti opera and the only studio recording in existence. No other organization could have gone to the trouble of getting this remarkable work recorded and I really cannot commend it highly enough.
Reviewer: Paul Foss