Il tabarro/Suor Angelica
Giacomo Puccini; librettos by Giuseppe Adami (Il tabarro) and Giovacchino Forzano (Suor Angelica)
Opera North
Leeds Grand Theatre
–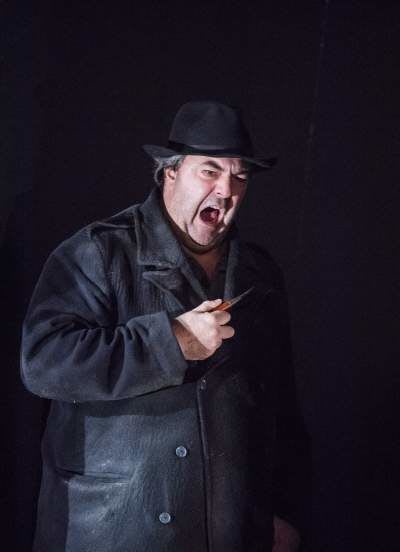 For its second production of the season, Opera North has chosen to stage a double-bill of Puccini's shorter works, thus allowing audiences to experience the Italian composer's oeuvre at its most distilled and intense.
Il tabarro and Suor Angelica form part of Puccini's Il trittico (1918), a trilogy of one-act operas which were originally intended to be performed over the course of a single evening. The absence of the third instalment, Gianni Schicchi—which was staged by Opera North last year—is not felt, however, as each of the three works is capable of standing alone.
Both operas explore death and loss in a melodramatic vein, yet there are pleasing contrasts between the two in terms of their style and subject matter.
Set on the banks of the Seine in 1910, Il tabarro depicts an adulterous love triangle between the barge owner Michele (Ivan Inverardi), his younger wife Giorgetta (Giselle Allen) and the amorous stevedore Luigi (David Butt Philip). Like a Zola novel, the characters' jealousies and resentments bubble over into explosive violence and—inevitably—murder.
In his staging of Il tabarro, director Michael Barker-Caven delivers a dark and brooding revival of David Pountney's acclaimed 2004 production. The opera's canal setting, combined with Mark Doubleday's expressionist lighting and Johan Engels's minimalist set design, evokes both the murky world of film noir and the working-class tragedy of Arthur Miller's A View from the Bridge (1955).
As the cuckolded husband, Ivan Inverardi moves and repels the audience in equal measure: we pity him when he sings about his lost child, but his powerful baritone and imposing physical presence make him an intimidating figure. Giselle Allen captures Giorgetta's sense of entrapment and longing to escape, and David Butt Philip excels as her hot-headed lover.
In Suor Angelica, Puccini focuses on the tragic plight of a young noblewoman (Anne Sophie-Durpels) who has been locked away in a convent after bearing an illegitimate son. Seven years later, she is visited by her aunt, the Princess (Patricia Bardon), who compels her to sign away her claim to the family fortune. When Angelica asks about her son, she is told that he died two years earlier, sending her into a downward spiral of suicidal despair.
Barker-Caven's new production of Suor Angelica is a feast for the eyes. Whereas the action of Il tabarro unfolds in a murky world of shadows, Hannah Clark's iron-grey convent is flooded with ethereal light.
The ensemble playing of the female cast is impressive. Soraya Mafi gives a touching performance as the sweet-natured Sister Genoveva who pines for her favourite lamb. Patricia Bardon is suitably loathsome as Angelica's cold, unfeeling aunt who berates her niece for her supposed sin but exhibits no Christian feeling whatsoever in her hour of need.
The performance of the night, however, is given by Anne-Sophie Duprels. She is outstanding in the title role of Suor Angelica, powerfully conveying the character's frustration at being locked away and the anguish of losing her child. Her moral dilemma at the end of the opera is unbearably moving.
My main criticism of the production is its unsubtle ending, in which the now-deceased Angelica walks naked into the afterlife, represented by video images of faraway galaxies and unborn babies played on a circular screen. The imagery evokes Stanley Kubrick's 2001: A Space Odyssey (1968) and jars uncomfortably with the rest of the production.
Il tabarro and Suor Angelica are both strikingly staged and performed, offering an evening of pleasing contrasts: light and dark, masculine and feminine. The orchestra, conducted by Jaco van Steen, manages to achieve Puccini's ambition: to extract the emotional essence of life and transmute it into beautiful music.
Reviewer: James Ballands