Il Viaggio a Reims
Gioachino Rossini, libretto by Luigi Balocchi
Rossini Opera Festival
Rossini Opera Festival, Pesaro, Italy
–

Listing details and ticket info...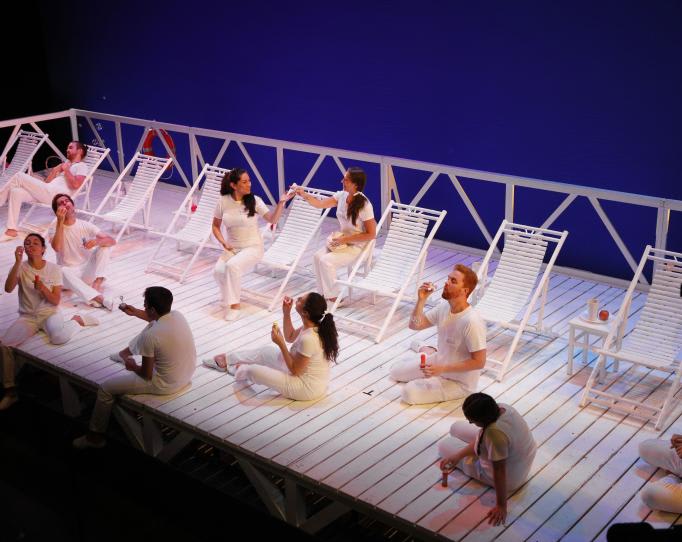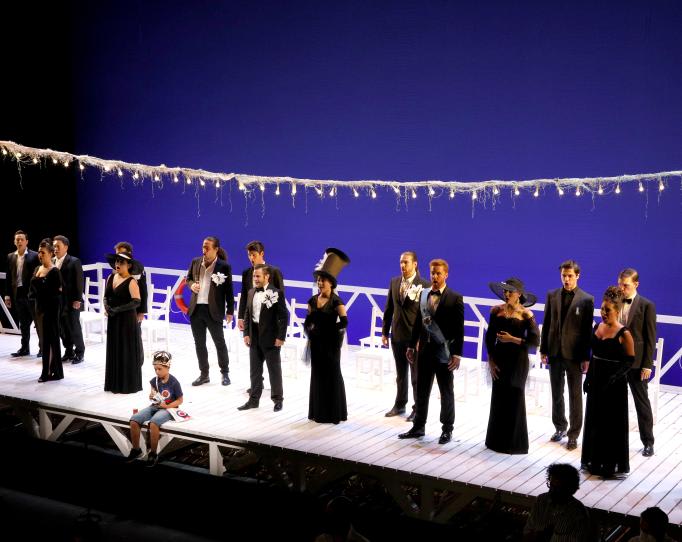 Every August, The Rossini Opera Festival stages Il Viaggio a Reims as an annual summer showcase for the next generation of bel canto singers. 300 singers applied to participate. Only 18 were accepted.
The Accademia Rossiniana was created in Pesaro, Italy in 1989 to teach singers how to sing Rossini better. Pesaro is Rossini's birthplace.
Il Viaggio a Reims premièred in Paris in 1825 as part of the festivities for the coronation of Charles X and celebrates the dawn of a new age and hopes for a future of brotherly love and peace between nations.
A group of tourists from all over Europe, France, Germany, Poland, Russia, Spain, Italy, England, lords, barons, grandees, military men are stranded in a French spa hotel. The coach has broken down and no horses are available. They will never get to Reims In time for the coronation.
The setting is a white wooden veranda with a row of white deckchairs. The singers are dressed in white bathrobes, ready for massage. A Spanish grandee (Stefan Astakhov) and a Russian count (Dave Monaco) are in love with a Polish widow (Paola Leguizamón). They spend their time quarrelling.
Emilio Sagi's production, conducted by Daniel Carter, is weak on characterisation, comic business, caricature and laughs. There is no real sparkle until well into the second act; not until Corinna (Mariia Smirnova), an Italian poet, and Belfiore (Tianxuefei Sun), an arrogant young French chevalier who thinks he is irresistible to women, have a duet and he takes off his bathrobe to reveal what he has to offer.
Don Profondo (Matteo Guerzé), a scholar and collector of antiques, has a jolly catalogue of the travellers' luggage valuables. The whole production comes alive with the act 2 ensemble finale ("We are going to have a good time"); though why the cast is changing from bathrobes to evening dress on stage whilst they are singing is not clear when the interval is only minutes away?
A reason that the vocally challenging Il Viaggio a Reims was not revived that often is that it was written specifically for the coronation of Charles X and not intended, at least not by Rossini, for revival. He would later re-use much of the music in Le Comte Ory.
Act 3, once the lovers are reconciled, is almost entirely sycophantic. The soloists, one by one, toast the King, wishing him a long and peaceful reign. The choice of music is dictated by their nationality. The inclusion of a bored little boy, who wears a crown and drinks Coca-Cola and eats a hamburger, is an unfunny joke which should be cut.
Rossini Opera Festival's Il Viaggio a Reims can be viewed free on the OperaVision channel.
Reviewer: Robert Tanitch