Ill Met by Moonlight
Charles Way
Hijinx Theatre
Wales Millennium Centre, Cardiff
(2010)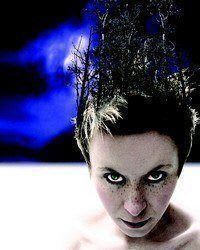 Community Theatre with the artistic integrity of Cardiff's Hijinx Theatre forms a vital cornerstone of British Theatre. After more than thirty years of nurturing great writing and direction, Hijinx's community tours have an impeccable track record of bringing well-crafted, beautifully staged productions to community venues across the UK.
Unhappily, Ill Met By Moonlight is the last such community tour, following the decision of the Arts Council of Wales to cut funding for this arm of Hijinx' work. It is a loss that will impact significantly on theatre in Wales, not least in that Louise Osborn's post as Associate Director at Hijinx has had to be cut as a result.
That said, this revival of Charles Way's play, first commissioned by Hijinx in 1994, is both well-deserved and timely. It is a staggering piece of writing, beautifully exploring the nature of loss within a spell-binding world of magic and myth in the rural Welsh borders during the nineteenth century. Way's text explores the nature of love, of consciousness and of progress in this tale dominated by 800-year-old Gwarwyn a Throt, (Michael Wagg), the last of the Bwcas of Welsh folklore, and his enslaved companion Hedydd, (Katy Owen), a Changeling bound to him in a place between consciousness and unconsciousness.
Gwarwyn a Throt is a descendent of Puck and the last of his kind. Where country folk once revered Bwcas, widely accepting the role they had to play in the agricultural calendar, times are changing. Where once man battled the land, taming it with blood, sweat and tears, and paying homage to its unseen forces, now he calls upon machines to ease his burdens. With mechanisation comes an inevitable de-mystification: not even the Bwcas' magic can stand up to the pace of change and Gwarwyn discovers that fast-industrialising country folk have little time for esoteric folklore. Progress? Or a passing to be mourned? It's a tough one to call.
Michael Wagg is an irresistible Gwarwyn; lithe and feral, he combines the unmistakable whiff of danger with the aching vulnerability of a soul in fear of an eternal loneliness. Katy Owen is an engaging Hedydd and Hannah McPake and Stephen Hickman balance out the cast as Mary Morris and Samuel Jenkins, the 'human' interest in the tale, who find love against the odds.
Sadly, due to ill-health Louise Osborn was unable to direct this, her last production with Hijinx, but the writer directs here with a sensitive hand.
Ill Met By Moonlight is a magical production and a fitting final curtain to Hijinx's Community arm.
Reviewer: Allison Vale