Illuminate
Kevin Edward Turner
Company Chameleon
Manchester Central Library
–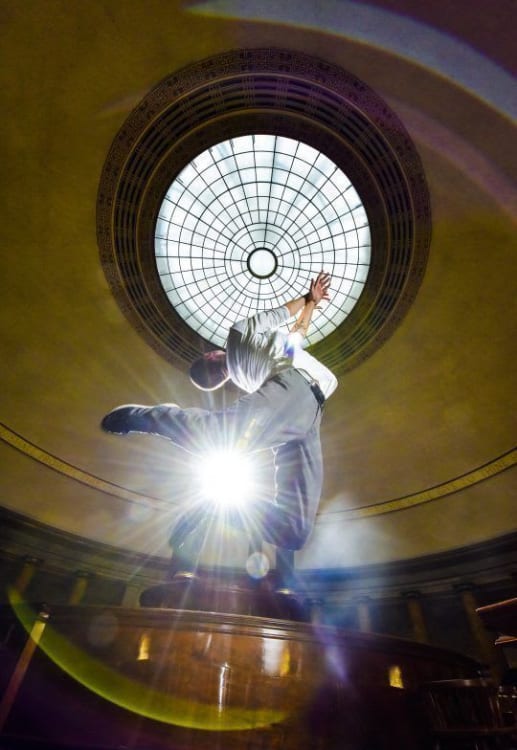 Manchester's Central Library has hit the jackpot in commissioning Company Chameleon's Illuminate for its Library Live cultural events programme. This thrilling combination of live dance, vocals and atmospheric lighting is choreographed by co-artistic director Kevin Edward Turner and performed by the company in collaboration with independent artists, students from Edge Hill and Salford universities and their own youth company.
Added to this collective is a further star: the unusual character of the library building, which is used to great effect as the setting for seven site-specific dance pieces. Each of these are inspired by the seven basic plots, as theorised by Christopher Booker in his work of the same name.
The opening section, "Overcoming the Monster", sees a seething, mad-eyed ensemble of dancers in black costumes and red face paint threaten to consume a white-clad protagonist. The choreography is breathtakingly physical—the dancers hurl themselves into lifts and roll across the unfriendly stone floor, embracing the challenges of their performance space. The piece is set outside the library's main entrance, framed by the giant columns, which looks stunning but unfortunately—as with several of the pieces—causes significant visibility issues.
Turner's interpretation of "Comedy" is inspired by Romeo and Juliet, apt given its staging in Shakespeare Hall. A trio of female dancers pose and preen on the balcony above, while three male dancers clown about below—this gives way to a graceful ballet-inspired duet that also subverts choreographic norms by having the female dancer lift her partner.
"Rags to Riches" is less obviously a showcase of the plot type and more an examination of stereotypical gender roles. Two bare-chested male dancers move around each other like stags locked in battle, while three female performers in hoop skirt tutus—strikingly lit and positioned on one of the main staircases—are stuck in robotic repetition of choreography that is part-ballet, part-music video.
The final section, "Rebirth", sees the audience led into the vast and beautiful Reading Room. A large cast of dancers, all in white, sprint around the circular space and dance in the spaces between desks, before gathering in the centre to raise their arms heavenward. It's simple but highly effective, evoking a religious ceremony in this temple to learning.
Often, site-specific works run the risk of relying on their novelty value, but Illuminate is truly an example of both style and substance. Having a key plot as the basis for each piece taps into our own knowledge and memories of each story type, while creative staging, breadth of choreography and strong performances from all involved make this an exhilarating, memorable experience.
Reviewer: Georgina Wells