The Tempest
William Shakespeare
Illyria at Souter Point Lighthouse,South Tyneside
(2004)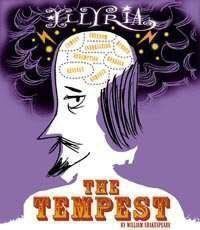 It is seven years all but a month since I saw Illyria perform The Tempest in the Bedlam Theatre at the Edinburgh Fringe. The performance they are currently touring to National Trust properties is basically the same one, so do I still feel the same way?
Very definitely. If anything, it works even better in the open air. In fact, it is devised for open air performance and suits the relaxed, picnic atmosphere better than it does a theatre, and its being longer than the constraints of the Fringe allow means that the five actors can establish a more intimate relationship with the audience.
Five actors? For the entire Tempest? Yes indeed. It shouldn't work but it does, and Illyria's trademark ability to find Shakespeare's comedy in paces others don't even think of looking - and this is a very funny Tempest - allows them not just to get away with actors vanishing from the stage to appear moments later as another character, but also to make it perfectly acceptable to the audience.
But this emphasis on the comedy should not blind us to the fact that director Oliver Gray treats the play with great seriousness and the complexity of its treatment of sin and forgiveness comes over very clearly. For this to work properly, Prospero must be a real human being, not some kind of magical symbol, and this comes over early on when, in his exposition of the situation - delivered to the audience in the guide of telling Miranda her history - he has all the sharpness of a father determined that his daughter will listen to him and not let her attention wander. And Prospero is crippled (another reason for his irascibility), sitting in a wheelchair or carried by Ariel, and when, at the end, he actually does "abjure (his) rough magic", we see him stand for the first time, precariously leaning on two sticks.
The production is full of nice touches like this. A most moving moment at the end was when Ariel, finally freed, drinks a potion given him by Prospero and collapses into the wheelchair whilst a dozen or so balloons fly - in the case of this particular performance - out to sea.
Thanks to a very talented cast - Marcus Fernando (whom I remember from the 1997 production) , Toby Gaffney, Liz Jadav, Richard Mansfield and Tim Thomas, who play fifteen parts between them - Gray's vision of a comic but deeply serious Tempest works superbly well, entertaining both Shakespeare enthusiasts and newcomers (including some quite young children) alike.
Definitely still a five star piece!
"The Tempest" continues touring to National Trust properties until 29th August.
Reviewer: Peter Lathan