An Imaginative Woman
Devised by Alice Parsloe & Lesley Cook
Shambolic Theatre Listen By Jessica Wolf
Varou Theatre Both at the Pleasance Theatre, Islington
(2008)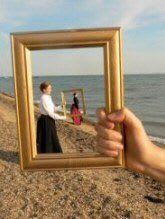 This is a double bill shared between two different theatre companies, both of which were started only last year but their productions are very different in style.
An Imaginative Woman, which was seen earlier this year at the Etcetera, has its origin in a short story by Thomas Hardy, first published in Wessex Tales and then collected in Life's Little Ironies, that was adapted for television in the early 1970s. As told here it is about Mrs Marchmill (Lesley Cook) a woman with pretentions to be a poetess who takes a house by the sea for the summer and finds another poet whose name she recognizes - Robert Trewe -- has temporarily vacated his rooms to make way for her. He (or is it a he? for Mrs Marchmill herself signs her work with a masculine pseudonym) is still writing and sometimes using the very same subjects for his greatly superior poems.
Here the story goes on another tack from Hardy's, reordering events and giving them a different complexion. Marchmill and the house's owner Mrs Hooper both seem to have a fascination with the poet's room; both seem to see the poet himself when they look into the mirror there. Both sit at the desk and write. Hardy's Mrs Marchmill dies in grief at the death of the poet and he gives his story a different twist. Here she seems to seek her own death because of her inability to match his verses. Here Mrs Hooper (Alice Parsloe, who also plays Mrs Marchmill's son and various characters on the seaside pier) seems consciously to be ensuring that her tenant can never meet the poet, although she says he is staying nearby and one begins to think that she may be Robert Trewe, or could he have been her husband who she is still mourning and whose work she is still continuing?
Its creators describe this as 'a dark comedy thriller' but I don't see why. A mystery, yes, and with a certain tongue-in-cheek humour as it sends up this grand lady's pretentions, but despite its occasional candle-lit gloom hardly a thriller. In fact it is not really very dramatic, though with a great sense of theatre; a slight thing on which Parsloe and Cook have lavished a great deal of care, having themselves been responsible for a design as well adaptation and performance. With the wall of the poet's room marked out with a line of books on which a model sailing ship (in the form of bookends) lies, handy for employment in describing a storm and shipwreck, and a cloth covered board suspended as a table and they use the simplest means to create their effects. A crocheted shawl or a piece of cloth becomes the little boy, emerging from beneath his mother's skirts, at other times he is invoked with a fold of paper or even a seashore pebble. One or other character often appears from concealment beneath the cloth that covers the table, even effecting a quick change there.
I found the playing stylish but too self-conscious, especially the repetitive use of mimed door and window opening with vocal noises - though that may have been intended to be comedic, too consciously showcasing the performers perhaps in a piece that kept promising more than it was delivering.
Listen takes its subject from the growth of surveillance by various law enforcement and security bodies - in Sweden; for instance, a recent law allows much greater powers. It assumes a government agency set up to carry out surveillance on private individuals without a warrant, initially as protection against terrorism but by the time the play is set also made available to companies and other bodies as a commercial service. It is send concurrently in a surveillance centre where agents watch monitors and listen on headphones served by secret camera and microphone bugging while on the other side of the stage we see the home of one of the 'rats' as they operators call their victims.
It is an idea with potential that is not really developed. A sequence of repetitive scenes, in which one operator's attentions are continually rejected by a female co-worker give a touch of humour, does not really begin to explore the relationship between two others who seem to have know each other previously, or the conditions of their employment and its effects on them. In the target home we see in stalled marriage disintegrating; a husband taking Viagra because is wife is away and a mistress is coming round and the effect on the wife when she thinks that she has discovered a bugging camera. The cast give a certain naturalism to banal conversation (or lack of it in the case of the 'rats' when the monitor is not switched on) but these are people who have signed away a right to real lives which deserves much more investigation. The horrified reactions of one employee who cannot stand by when she sees a woman preparing to kill herself start to pose moral problems but there is no attempt to present any argument about the use of surveillance for commercial purposes (which is what is presented here) let alone in 'the fight against terrorism'.
Daniel Rodrigues is a beanie-hatted Jorge, who says he comes from Spain but has no Spanish accent, trapped with romantic yearnings but professionally banned from forming relationships, and Renee Salewski manages to suggest that the girl with a conscience has much more to her than we actually discover and Sophie Steel and Peter Henderson as the 'rats' manage to suggest marital tensions without being able to voice them, but the subject needs more than this lightweight script to make any real statement. Or is this intended as satire? Certainly many of the audience on the first night were reacting as though they were watching stand-up - but surely that was not the intention? And if it was, the many short scenes with long fade-outs between them made the pace too slow for comedy.
Until 23rd November 2008
Reviewer: Howard Loxton