I Miss Communism
Ines Worth and Mark Soper
Hackney Empire
(2007)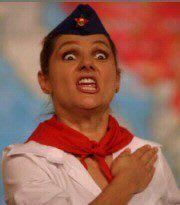 Croatian-born Ines Worth remarked to her American boyfriend 'I miss Communism!' and this so surprised his western capitalist conditioned mind that his Häagen Daz ice-cream came dribbling down his nose. The result: together they wrote this one-woman show which she acts and he directs.
It claims to tell 'the story of East goes West; Communism goes Capitalism' but it is not, as that and the title might suggest, a picture of the discontented life of people in the old Eastern Bloc who remember their more comfortable life under the old regime. It does allude to the fact that under Tito no one went hungry, education was free and life secure - even if you did have to queue to buy had to get coffee, this is a story an Croatian schoolgirl who grows up to be an American actress. It is - or appears to be - a slice of autobiography. It tells how little Ines became obsessed with the Carol Reed film of Oliver! and its songs, how after high school she left for America , worked her way through drama school and especially about a returning to visit her mother during the ethnic wars of the 1990s.
First performed as part of a benefit night in New York in 2004 it was seen on the Edinburgh Fringe in 2005 and has been touring since. It has gathered plaudits and award nominations but I am at a loss to see why. As an unfortunate misprint in the programme declares: 'Through music, fears and great comic timing this story can leave you untouched.' I'm afraid I have to agree (though not entirely about the timing). There is some build up of tension when grown-up Ines is crossing her war-torn homeland and is thrown into a dark cellar by Bosnian soldiers, which reminds her of the horror of being locked in the cellar as a little girl, but we don't discover what happened because she blacked out and then was apparently free and running away. There is no attempt to explore any un-revealed trauma. Perhaps, from our knowledge of what happened at those times we are to think the worst -- but it is an opportunity missed.
Worth's telling jumps here and there chronologically, enabling her to switch from Communist Youth uniform into a glitzy US cheer-leader outfit and to contrast her childhood with her modern life, but it rarely stays anywhere long enough to create any real atmosphere. Publicity says she plays fifteen different characters. I only counted five: herself now, herself as a child, her mother, her grandmother and her landlady in LA. Except for the last, we meet them in such brief snatches, often only a line, that we get little more than a caricature presentation with a funny voice and a grimace. Her Croatian lawyer landlady in LA is the only opportunity for an extended characterisation which includes a spasm of awful ballet and leaves us little the wiser. The script is not without laughs but in writing it the actress offers herself little help in giving her characters any depth. Her performance too often seemed superficial: lines just said rather than thought.
I could not make the official press night and perhaps just went on an unfortunate off-day (it happens to all of us). If you have been playing something for so long, especially with no other performers to stimulate you in performance, it is easy for it to become stale and flat, especially when playing to such a thin and unresponsive house.
The movie Oliver! was often shown on Yugoslav television - it reinforced a grotesque image of the West, but little Ines identified with Oliver, and to express moments of emotion Worth sings snatches from Lionel Bart's songs. The idea of warbling 'Where is Love?' to express pent up feelings sounds better than its execution but Worth is much more successful. when she does a snazzy turn singing 'I'm a Communist' to Chicago's 'All that Jazz' and when she rounds of the show with a spirited jazz version of 'The Internationale.'
At Hackney Empire Studio until 23rd September then continuing on tour
Reviewer: Howard Loxton