Immaculate
Oliver Lansley
Rolling Sky Productions & Sprout Ideas
Lion and Unicorn Theatre
(2011)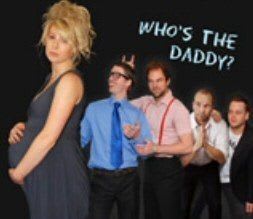 Six-months pregnant and you haven't had sex since your boy friend broke things off a year ago: Mia may make her living as a dominatrix with a handful of regular customers to support her life style but there is nothing she does with them that could get her pregnant. How the hell did that happen? She may well ask the reason. Then the Archangel Gabriel turns up with the answer. This immaculate conception is God's affair; as Gabriel says, it is 'one of ours'. Or is it? It seems there are other contenders vying to claim for the infant's paternity and speaking of Hell, they include fallen angel Lucifer.
Archangels these days wear city suits and have lost their wings, devils are a touch more raffish but both knock on the door to enter. Indeed Mia thinks the heavenly messenger must by a kinky client whose booking has slipped her memory. It is quite something for this bouncy blonde atheist to be confronted by them, let alone the boy friend who dumped her, who thinks the baby must be his, and a geeky old admirer from her schooldays whom Lucifer had made use of and who now arrives with roses and his own claim to paternity. Mia is certainly no virgin but is it an immaculate conception? And by whom?
Lansley certainly knows how to milk the laughs from the situation and the misuse of religious terms and expressions in the vernacular. From the start Mia confides in the audience and the other characters, even a mysterious black garbed white masked chorus, all have their moments of talking to the audience - Lucifer even stretches himself out among them in trying to make his case.
Natalie Jones, with big hair and big belly, gives Mia a likeable, straightforward believability. In comparison her traitorous best friend Rebecca (Khiley Williams) and the men - Russell Anthony's very proper Gabriel, who is somewhat out of his depth, Dimitri Shaw's Lucifer, who things he's such a charmer, Martyn Hill's Michael, the self-centred ex and Michael Buckster's hyperactive nerd - are more one dimensional.
This is not a serious look at the problems of single motherhood, the traumas of terminations or religious belief; it is a light-hearted amusement. Along the way there is a nice picture of the self-justifying male in Michael, claiming he's "a different man" from who he was when they first shacked up together and (a delightful touch) scratching his balls as he tells Mia her take on things is bollocks!
David Bourne keeps things moving and amusing but his direction can be quirky. He changes the lighting state to emphasise the times when characters confide in the audience, sometimes leaving the scene lit and the foreground character not, which seems contrary. He opens the performance with a burst of plainsong to bring in the monk-like Chorus who introduce and comment on the story. Their badly scanning chanted doggerel is muffled by white masks (a hole at the mouth or much more precise diction might have helped) and, unlike the rest of the play, its jokes fall flat. Their only real purpose seems to be to establish that one short flash-back scene, though acted in the midst of the sitting room setting of the rest, takes place in a disco. He should have cut them; they let down the rest with its nice juxtapositions.
The Angel, despite turning tea into wine says God doesn't do proof. When Mia wonders who's going to help with the baby he says he knows a good carpenter and, when someone suggests a DNA test to confirm paternity, declares God doesn't do DNA.
"Immaculate" runs in repertoire at the Lion and Unicorn Theatre until 9th July 2011
Reviewer: Howard Loxton