The Importance of Being Earnest
Oscar Wilde
Bath Theatre Royal production
Yvonne Arnaud Theatre, Guildford, and touring
(2007)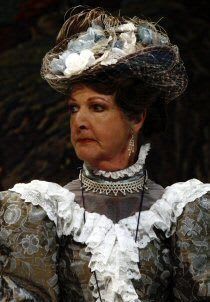 This well-known and well-loved play is pretty sure to attract, and with the well-known and well-loved Penelope Keith leading the cast in the part of the formidable Lady Bracknell a full house with attentive and appreciative audience is practically guaranteed.
Wilde's razor-sharp wit and acute observational powers have produced a play which can appear a trivial and frivolous comedy of manners, but it brings in many important social and political issues of the time while turning the perceived standards of the period on their heads. "Land gives one a position and prevents one from keeping it up," states Lady Bracknell, referring to the newly imposed death duties, and butler Lane's disparaging views on marriage cause Algernon to announce, "If the lower orders don't set us a good example, what on earth is the use of them?"
The play opens in Algernon's flat – a beautifully designed set by William Dudley in Victorian style with chinoiserie decor which was fashionable at the time, and he and his friend Jack – known at this point as 'Earnest' - are two young men about town engaging in some light hearted banter over the cucumber sandwiches meant for Algernon's Aunt Augusta (Lady B). These two (William Ellis and Harry Hadden-Paton) shoot the dialogue at each other with such quick-fire rapidity that the witticisms tumble over each other and it needs concentration to catch them all, not helped by the fact that they look so similar and are dressed identically. They could easily be the brothers that they finally turn out to be.
Keith sweeping onto the scene, in a gloriously imposing outfit complete with very impressive hat, brings her exquisite comic timing into play and not so much slows down the discourse as puts emphasis in all the right places. She wisely passes over "A Handbag" made so famous by Edith Evans, and brings scandalised disbelief to its location: "A cloakroom in Victoria Station".
Daisy Haggard's Gwendolen is very much her mother's daughter, autocratically giving Jack instructions on how he must propose to her and insisting (to Jack's consternation) that she could never marry a man who was not called Earnest. He is "Earnest in town and Jack in the country!" for some very devious reasons.
Wilde's women here are all very strong and determined. Even Jack's ward, the delightfully young sweet and innocent Cecily (Rebecca Night), has already arranged her future and entered it in her diary, so she makes sure that it occurs as she had planned, with the besotted Algernon wondering how he can extricate himself from pretending to be Jack's brother Earnest and be himself again.
Cicely's governess, Miss Prism, has her own admirer in Rev. Canon Chasuble (Tim Wylton) whose effusive "I should hang upon her lips" brought a look to the very expressive face of Janet Henfrey that was indescribable, but very comical. It is the fault of Miss Prism that Jack as a baby was found in the aforementioned handbag, his lack of known parentage rendering him an unsuitable suitor.
Despite being so familiar with the witticisms of the play, it is a measure of the expertise of this excellent cast (meticulously directed by Peter Gill) that I found myself hanging on every word – as did the rest of the audience.
The first-night audience in 1895 no doubt appreciated the barbed references to issues of the day, but today's audience are equally well entertained by the wicked wit and wisdom of Wilde and this is a very high quality production, beautifully designed, presented and performed. Highly recommended!
Touring to Edinburgh, Malvern, Poole, Worthing, Aberdeen, St. Albans, Basingstoke, Newcastle-upon-Tyne, Eastbourne, Cambridge, Chichester, Richmond and Buxton, before arriving at the Vaudeville Theatre, London on 22nd January, 2008.
V Mitchell reviewed this prduction at the Theatre Royal, Newcastle
Reviewer: Sheila Connor