The Importance of Being Earnest
Oscar Wilde
Ridiculusmus at the West Yorkshire Playhouse, Leeds
(2005)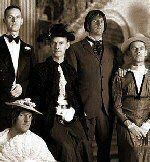 "You will never have seen an Importance quite like this before!" claims the publicity leaflet. That isn't strictly true, as anyone who saw the Lip Service (another comedy duo) version of Wilde's masterpiece a few years ago will attest. But there is a vital difference between the two productions - Lip Service's equally bizarre show came across as an amusing but rather pointless foray into the world of "real" plays; Ridiculusmus (Jon Haynes and David Woods), under the direction of Jude Kelly, have somehow succeeded in performing dramatic alchemy. They have transformed the great comedy into a vehicle for their surreal talents without ever resorting to cheap sending-up.
Zoe Atkinson's set gives a hint of what to expect. Algernon's bachelor flat is an eye-searing blend of clashing rugs, wallpaper and upholstery; stripes and chintzes have spread like knotgrass to colonize every flat surface. All lateVictorian mod cons are present - CD player, fridge, swing bin - plus a wardrobe to assist the cast of two in their umpteen costume changes. Mr Haynes plays Algie, Gwendolen Fairfax, Merriman and Miss Prism whilst Mr Woods undertakes the roles of Lady Bracknell, John Worthing, Lane, Dr Chasuble and - unforgettably - Cecily Cardew. It sounds impossible and, strictly speaking, it is. The gentlemen are frequently obliged to exchange roles, supplement the cast with glove puppets and wear two costumes simultaneously, and for reasons not entirely clear to me they both shed their trousers in the final scene.
The extraordinary thing is that, in spite of the non-stop frenzied activity, Ridiculusmus' vision of the play is infinitely more Wildean than many a conventional production. The immortal lines are delivered with great panache and the sedate courtship of Miss Prism and Dr Chasuble is genuinely touching. Even when playing Cecily as a galumphing hoyden in a frilly pink frock Woods manages to exude girlish charm, and Haynes ensures that not one of Algie's aphorisms is thrown away. His rictus of a grin when he expresses Gwendolen's instant friendship with Cecily also speaks volumes about the character's steely determination to get her man. The British Theatre Guide doesn't have a star rating system but I'll give this inspired show ***** anyway.
Finally, a word of appreciation for the delightful afterpiece provided by Messrs Haynes and Wood - after calling for silence they performed an Elizabethanstyle courtly dance, still without their trousers. Oscar Wilde would have loved it.
At the West Yorkshire Playhouse until 1st October, then touring to Runcorn, Swindon, High Wycombe, Louth, Leicester, Canterbury, Winchester, Coventry, Thorsby, Slough, Norwich, Aberystwyth and Cardiff.
This production was reviewed by Jackie Fletcher at the Barbican Pit and by Kevin Catchpole at the Theatre Royal, Winchester.
Reviewer: J. D. Atkinson