Impotent
Matt Reed
Michael Oliver Productions
Lion and Unicorn Theatre
–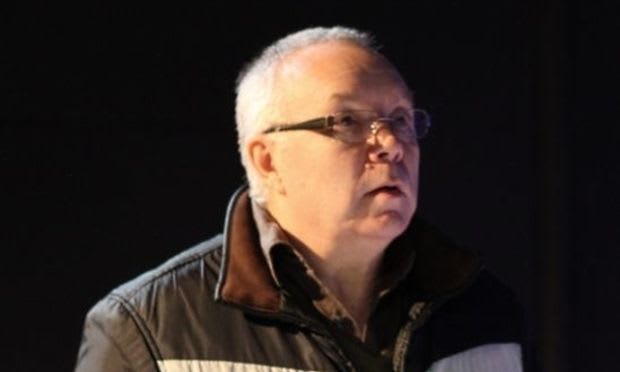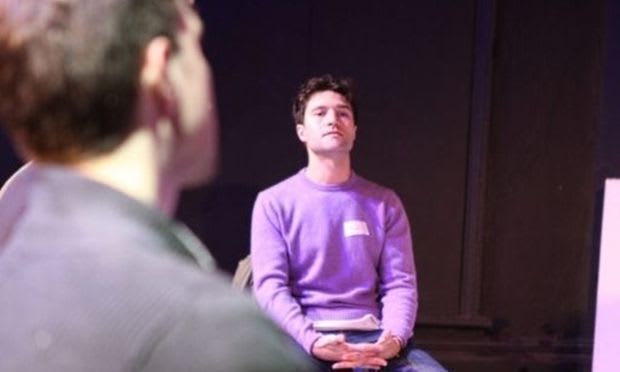 Yes, Impotent is a play about wilting willies that mixes compassion with hilarity. It is pretty explicit so not for prudes but that's only the dialogue—they stay in their trousers and don't get waved about.
It is set (mainly) in Dr Zoë Lane's urogenital clinic in Market Harborough. With the clean lines and elegant white furniture that designer Hattie Clark gives it, is are one up on most National Health facilities but the strict time slot allotted to each patient shows strict budget watching.
Director Graham Hubbard slips into things subtly when some of the latecomers turn out to be patients who find themselves chairs in a line facing upstage that mark out a waiting room or corridor from where the busty practice receptionist Kelly (Rebecca Cruikshank), provocatively posing in high heels, calls them in turn for their consultation.
The men range from Don Cotter's gentle cleaner Keith, separated from his wife who went off with someone sexier but still doting on her, to obnoxiously loud-mouthed, politically opinionated Gordon (Neil Stewart), bespectacled accountant Gareth (Tom Durrant-Pritchard), a fidgety late-developer to church-obsessed, out gay Joseph (Paul Harnett) while Nik Drake's self-analysing Saul just thinks too much to be confident with the girls who think he's dishy.
Each brief consultation is nicely balanced between character and comedy. A snapshot opinion of them from the woman in their life (mum in Joe's case) is inserted before each gets going. Inserted between them are glimpses of Kelly's home life with her testosterone-charged boyfriend Tommy (Randall Lyon), a carpet fitter whose business card promises "the best lay you ever had". As she tries to drag him away from the TV footie, the ensuing row always makes him randy.
The second act presents all five patients at a group therapy session with Jessie May, who is excellent in playing all their women in the first act, as grotesquely-drawn visiting facilitator Dominique. The revelations made and conflicts that ensue are obviously intended to explore the patients' problems further, but any reality is removed by this unbelievable and over-played creation.
When things simmer down and Dr Lane is left with just one patient, the play moves into a different gear and builds upon the little we have learned already about her: so professionally proper when with her patients but herself looking for love through dating services. It is a beautifully controlled performance from Helena Blackman and one wishes this part of the storyline had been more fully developed.
The best comedy always has a serious centre and Matt Reed's play takes that on board, but it would gain considerably if at allowed itself a little more time to explore its patients' problems further. He has a great sense of humour whether he's dealing with Joe with his "stiffy that's gone in a jiffy" or the guy who took so long to discovered masturbation or waited until 18 to get his first kiss, but the key to playing comedy is not to "be" funny.
By the time I saw Impotent, well into the run, some of the cast were too obviously playing for laughs and, though they got them, this turns them into comics not characters, just like the excessive exaggeration in the second act. Don Cotter, Nik Drake and Helena Blackmore hold onto reality in their playing in a way that the rest of the cast would do well to follow.
Reviewer: Howard Loxton