In Fog and Falling Snow
Bridget Foreman and Mike Kenny
York Theatre Royal, National Railway Museum and Pilot Theatre
National Railway Museum, York
–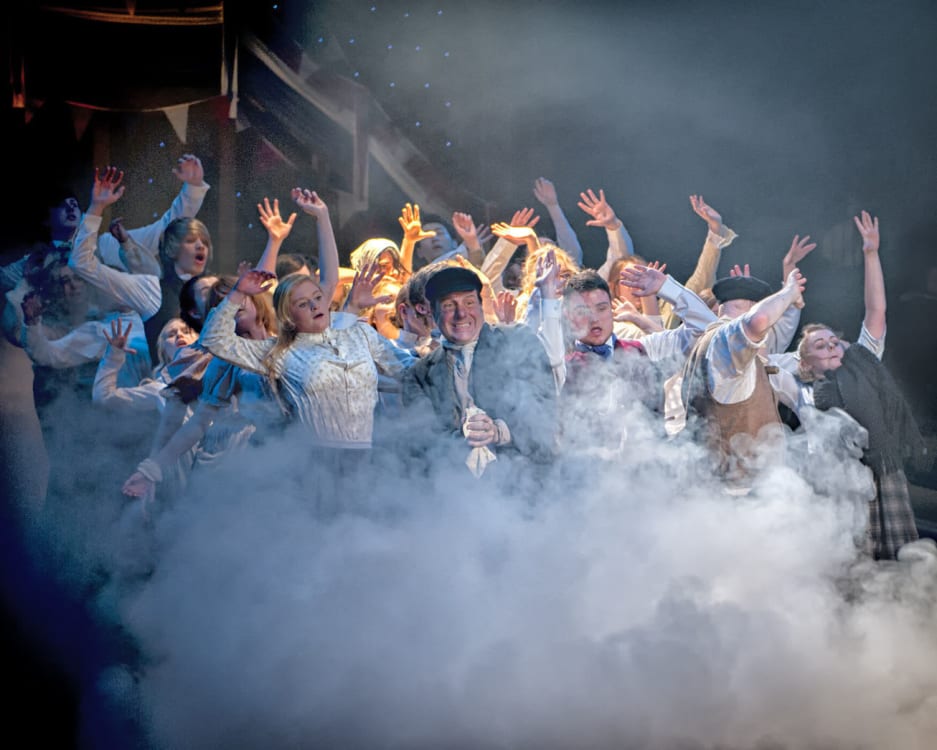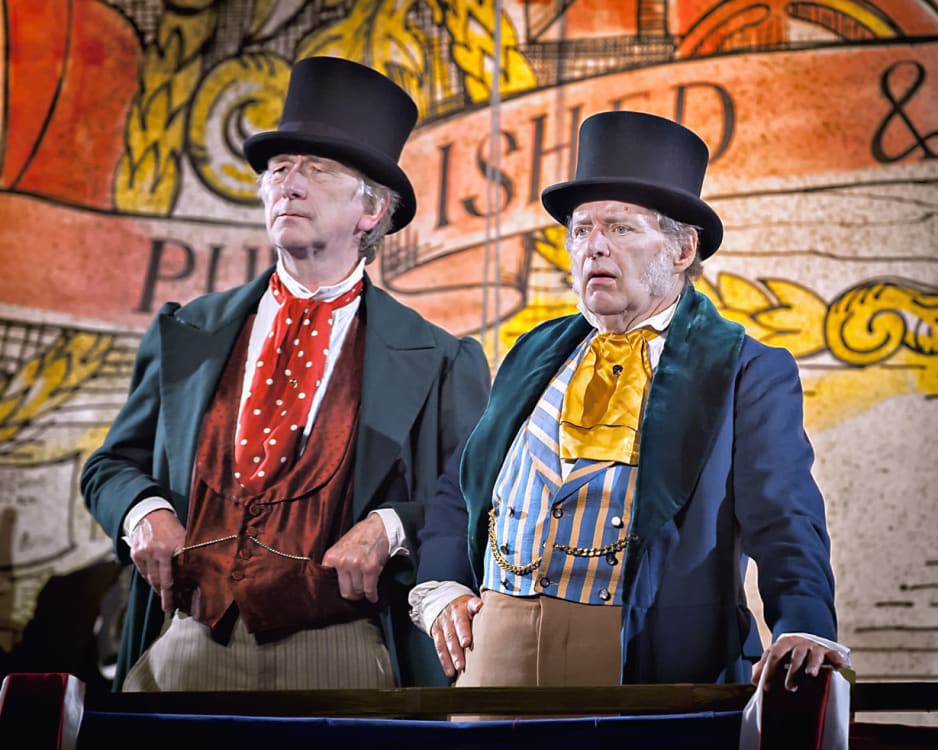 The latest in a string of ambitious, large-scale community projects for the York Theatre Royal, In Fog and Falling Snow is a tale of two halves and several Georges.
Following the superb Blood + Chocolate and Mystery Plays, this again involves a cast of over 200 community actors and hundreds more backstage volunteers in telling a compelling story on a large scale, across the sprawling canvas of the National Railway Museum.
The play is opened by the most famous of the Georges here depicted: Mr Stephenson, of 'Rocket' renown. Played by Ian Giles, he makes a thrilling entrance into the turntable area of the main station hall, welcoming us to the show while overlooked by his own spot-lit statue ('not a good likeness', as he puts it in one of the script's many pithy, knowing witticisms).
He is joined by the show's one professional actor, George Costigan, in a booming and winning turn as George Hudson. The play is, largely, Hudson's story—the tale of a forgotten 'Railway King' who successfully persuaded Stephenson to lay the East Coast track via York, without which intervention the city would look very different today. But Hudson's subsequent profiteering and dubious business practices led to a fall from grace which has seen him largely erased from the history books, and Bridget Foreman and Mike Kenny's script neatly investigates this poignant and compelling tale of posterity's vicissitudes.
The grand narrative is tied to smaller tales of (even) lesser-known individuals—workers on the railways squeezed by Hudson's compulsion to make trains run more speedily and moreover cheaply, and investors sucked in with sharkish promises of only 10% down-payments on shares which seem at first only to be rising in value. This culminates in a collision of two metaphors in the play's final act, providing powerful imagery driven by strong performances and smooth stage-craft.
As mentioned, this is a story of two halves, with the opening sections performed in promenade around various 'stations' in and amongst the Railway Museum's exhibits. Linked to a specific group and led between these separate vignettes, we see a shareholders' meeting in the Japanese Bullet Train, a new worker moving into company-run housing represented by the exposed chambers of a gigantic steam engine, and various episodes of out-and-out competition between rival rail companies around the beautiful platforms of the station hall.
These sub-ten-minute snippets act as tasters of characters and themes which subsequently emerge in full in the second half, a sit-down affair in the purpose-built 1000-seat 'Signal Box Theatre'. At best, the opening half gives tantalising glimpses of the characters (and engines) which drive the story, and the cast members posted in between these scenes act as lively human set-dressing, creating a strong atmosphere.
However, many of the scenes themselves are overlong for the content they convey, and are somewhat hampered by some implausible acting and a number of odd, unconvincing fight sequences. It seems churlish to complain, as the goal is clearly to give a large number of the community cast a chance in the spotlight, but these segments are also disrupted by the need for aimless vamping as the actors await the signal that their scene can begin, as well as some incongruous directorial choices.
For instance, the beautiful and towering settings of the engines themselves are often reimagined as other locations, but one house party scene atop a tender plays oddly between metaphor and reality, the women swaying with apparent motion, but the text suggesting they are in a house with garden. Whatever the intention, the execution is lacking in clarity. It's to be hoped that the timing issues and the quality of the improvised banter at least will improve as the run progresses; this should also help reduce the too lengthy three-hour running time.
These caveats aside, however, the strands of a compelling set of characters are tantalisingly laid out and the second half, in the traverse auditorium looking across a well-deployed stretch of railway track, is more sure-footed. Hudson and Stephenson's friendship develops movingly, along with Hudson's relationship with wife Elizabeth (Rosy Rowley, a strong presence who deals well with the script's somewhat weary malapropisms). Rory Mulvihill as George Leeman, the lawyer who investigated Hudson's questionable share dealings, provides a brooding, thoughtful counterpoint to Costigan's raucous excess.
But even this is a reductive summary, and it is impressive how many plates the script keeps spinning at once, making the story both personal and grand, and the direction (by Damian Cruden, Juliet Forster and Katie Posner) makes great use of the community cast, at their best when mass scenes enable our attention to flit between well-crafted individual reactions.
The production's heart is provided by lowly railway worker Albert Jenkins (Paul Osborne) and his daughter George (played by Olivia Ledden or Charlotte Wood depending on the night). In sensitive readings of a well-crafted set of scenes, Osborne and Wood generate touching but unsentimental performances. I'd say the pair was outstanding, but in this production every worker plays his or her part with conviction and power.
Reviewer: Mark Smith