In Her Defence
Helen Saxon
Dead Herring
theSpace on North Bridge
–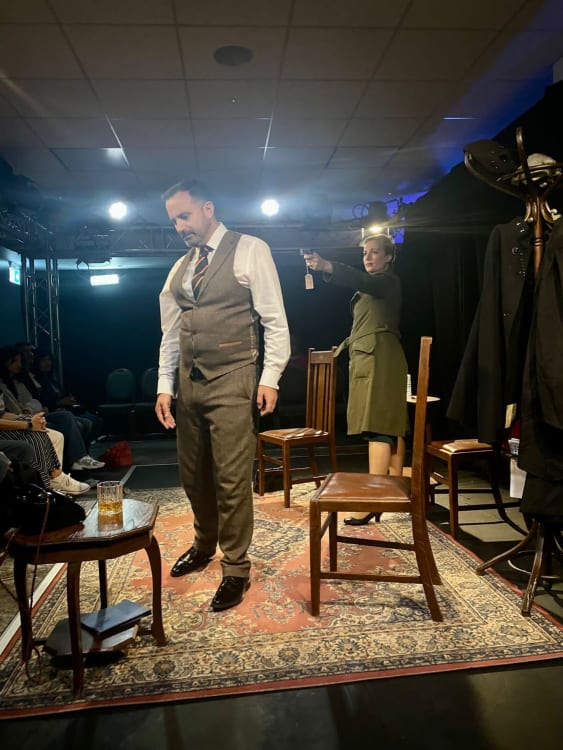 Red Herring's In Her Defence, skilfully written by Helen Saxton, is the classic Agatha Christie murder mystery play with a wicked twist. There are so many references to the 'Queen Of Crime' in this splendid play, there is even a QR code to check if you managed to get some of them right. A nice touch.
The action takes place in the Mackinder's London flat in 1947 where a murder been committed. Headmaster Philip Mackinder lies dead on the floor. Pete Watt (who also directs) gives a carefully crafted performance as Mackinder and by contrast also confidently plays the King's Counsel prosecuting what appears to be an open and shut case.
There are labels on a gun and the whisky decanter all marked to be given in evidence. It is all pointing to his wife Catherine who was found red-handed with the gun in her hand when the police arrived.
The set perfectly catches the era from the furniture to the telephone creating a period ambience.
Helen Saxton superbly embraces the smouldering, chain-smoking wife whose marriage is failing after Philip returns from the war a broken man. The tension between them is palpable.
Love has gone. She always wanted a baby in the hope of keeping their relationship alive but that was not to be. Philip's attention has turned to Kitty who has been spending illicit weekends in the family's country house in Bexhill on Sea. A phone call from the housekeeper, Mrs Croft, about a peacock blue coat left in the house is picked up by Catherine and exposes the affair with disastrous, fatal results.
But who did kill Philip? Was it such a watertight foregone conclusion? Or was there another murderer?
Do go to find out.
Reviewer: Robin Strapp