In Loyal Company
David William Bryan and Sascha Moore
Lab Rats
Pleasance Courtyard
–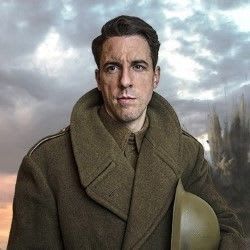 Private Arthur Robinson, or 'Joe' to his pals, is off to war. After losing friends in the Blitz and riddled with anger and a sense of futility, he has signed up to go and give the Germans what for. But his story is going to play out a little differently.
Along with collaborator Sascha Moore, David William Bryan has written a heartfelt and utterly human story of his real life Great-Uncle 'Joe' from his days as a cheeky lad in Liverpool, too scared to ask his sweetheart to dance, through his enlistment, his posting in Singapore and then the horrors of the Japanese internment camps. Bryan plays him as an everyman, a simple soldier, and the affable frank kindness and guileless way he looks and talks about the world around him paints a portrait of a loveable fellow.
Being a one-man show, there is a huge amount resting on Bryan's shoulders but he carries it deftly, portraying the changes in location and events through a continual change of costume, all pulled from a large luggage chest which serves as the only other prop.
He manages to endear the audience to him with an openness that feels genuinely disarming and a look of almost pleading questioning in his eyes as Joe tries to understand and cope with the changes and horrors that surround him.
It's a simple, relatable story told with true heart and one that feels both touching and humbling.
Reviewer: Graeme Strachan