In Other Words
Matthew Seager
Off the Middle
York Theatre Royal
–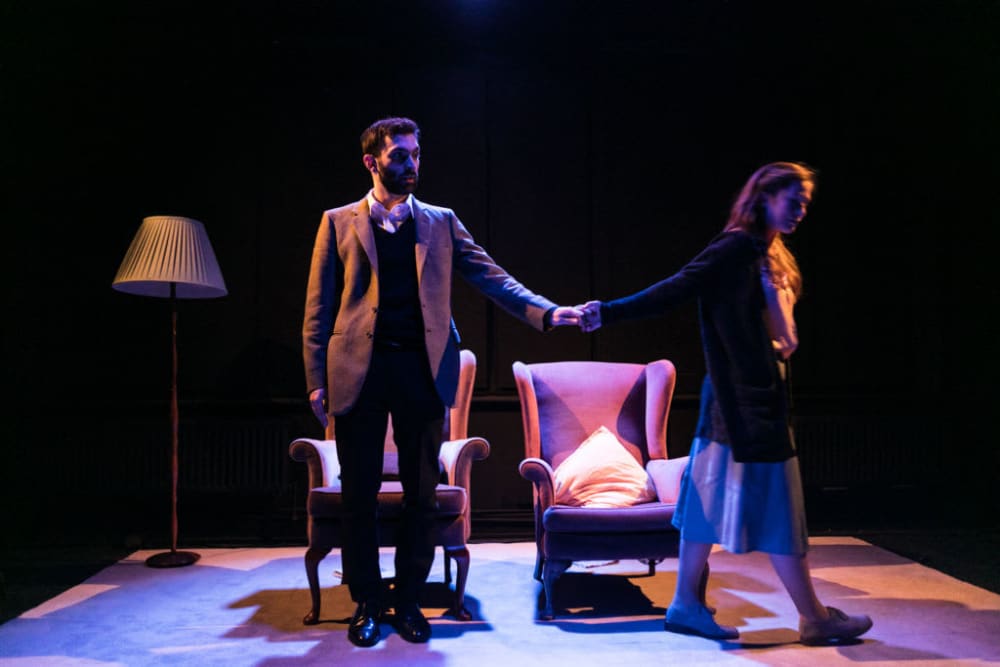 In this poignant two-hander, actor and playwright Matthew Seager explores the cruelty of Alzheimer's disease and music's power to evoke the past by focusing on the lives of an ordinary married couple.
In the first scene, an elderly woman, Jane (Angela Hardie), attends to her hopelessly ill husband, Arthur (Matthew Seager), by helping him with his shoes. From this point, we are transported to the couple's first ever meeting where Arthur clumsily spills red wine on Jane. This inauspicious start to their relationship—which Arthur later claims was intentional—leads to them dancing to Frank Sinatra's famous recording of "Fly Me to the Moon", which will become their signature song.
Over the course of 75 minutes, we watch their happy marriage slowly implode as Arthur starts to lose his memory. Alzheimer's disease is unspeakably cruel, stripping the afflicted of their personality and leaving their loved ones to struggle on. Jane comes to live for the occasional moments of lucidity where Arthur recognises her and Sinatra's imperishable song serves as an anchor for them both.
In Other Words was inspired by Matthew Seager's experiences of providing workshops for dementia sufferers in residential care and the play is filled with well-observed details that will be familiar to those who have seen their loved ones succumb to Alzheimer's.
Both actors play their roles to the hilt. Seager is charmingly awkward and earnest in the early scenes. Later on, he powerfully captures Arthur's anger and vulnerability as he succumbs to his illness. Equally impressive is Angela Hardie, who skilfully conveys Jane's growing pain and frustration.
For such a small production, there is an impressive level of technical ambition here. Arthur's decline is evoked through Iida Aino's sound design, which makes effective use of distortion and echo. Will Alder's increasingly cool lighting underlines the hopelessness of Arthur's condition and the couple's increasing sense of isolation.
In Other Words is a cleverly structured piece and a deeply affecting love story.
Reviewer: James Ballands