In Our Hands

Smoking Apples
Underbelly, Cowgate
–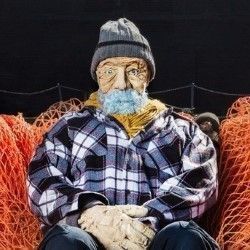 The plight of the fishing industry in Britain affects many fishermen and their families as quotas are imposed and they struggle to stay in business.
In Smoking Apples' production of In Our Hands, we view the troubles that an elderly trawler man, Alf, faces in Cornwall.
The company uses no dialogue but tells this important story through the use of puppets, model boats of the trawlers and effective shadow work.
They cleverly use folded papers to create the squawking seagulls as they search for food. One particular gull, as a puppet, is particularly persistent, with a fiery personality and you can't help but empathise with him.
Alf is portrayed by a mask head and an arm and is totally convincing. His story of debt and relationships with his son following his mother's death is heartbreaking.
Composer Jo Walker's score and soundscape with snippets of Radio 4 broadcasts, Alf's answer machine messages and sounds of the sea all help to create the location and atmosphere.
But the sea doesn't provide enough fish for Alf to stay in business and he has kept his desperate situation from his estranged son. When he finally tells him of his situation, he comes up with a surprising solution, but I won't spoil it.
There is so much to enjoy in this production with magic moments that make you smile including the striking set designed by Samuel Wyer that's both clever and inventive creating a variety of setting from boats to fish markets and even Ronnie Scott's jazz club.
This is a highly enjoyable production that richly deserved the sustained and loud appreciative audience's applause.
Reviewer: Robin Strapp