In Response To… Politics
Various writers
Theatre Renegade
The Other Palace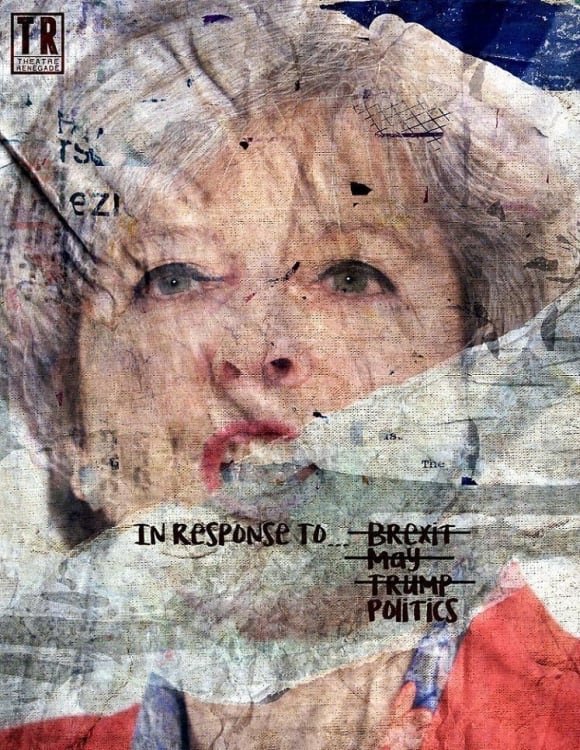 Recent political shocks have worried many but In Response To… Politics organised by Theatre Renegade, the tone is upbeat and hopeful.
In part this is a result of the choice of music which opens the show with the soaring medley of "Lament/Rainbow High" from Evita sung by Madalena Alberta and closes the event with the uplifting "You Will Be Found" from Dear Evan Hansen sung by a group of eight.
The tone is also there in the sharply focused political plays that target shy Tories, colonialism and the blind spots some of the wealthy can have about the cause of social problems.
Help by Georgia Fitch could be a therapy or job coaching session in which confident amiable Camilla (Bathsheba Piepe) tries to probe working class Kelly's (Tracey-Ann Liles) psychological problems that she implies are rooted in childhood abuse.
However, Kelly is convinced her difficulties might be more connected to being made redundant, becoming homeless and having little to feed herself.
This information doesn't slow Camilla's argument that attitude is everything and that she "can provide a safe space" for Kelly to reveal the scars of childhood.
Every so often, her words are drowned by a huge buzzing sound.
It is Kelly who has the best lines as she cites the real material actions of government which created her misery.
The surreal play The Tune is Always Better on the Outside by Hassan Abdulrazzak is a metaphor for the cruelty of colonialism and the mistreatment of migrants.
A white woman (Ella Road) arrives on stage claiming to another woman (Peyvand Sadeghian) that an instructor has said they should work together. She draws a chalk circle around the woman who she refuses to let out of the circle. As she does so, she hums the British patriotic tune "I Vow To Thee My Country".
When the other woman creates a mess because she is not even allowed to go to the toilet, the white women concludes this means she must draw the circle smaller.
Shy Tory is a humorous dream sequence in which the Oxbridge educated Phil (Tama Phethean) faces his sisters and partner who are outraged he voted Tory. The arguments list Tory legislative atrocities and some very amusing facts about the elite background of those who run the country.
Other contributions to this very entertaining evening, whose profits go to the civil liberties organisation Liberty, include a moving extract from The Handmaids Tale spoken by Pippa Nixon, Sondheim's wise lyrical plea "Children Will Listen" sung by Nigel Richards and a powerful rendition by Gloria Onitiri of "I'm Here" from the Colour Purple.
The artistic director of Theatre Renegade Ryan Forde Iosco spoke the following words against the music of the final song: "we have this night to speak out. Against a misogynist in power in America and a Vice President who doesn't believe that he should have meetings alone with women. To a Prime Minister who talks about a magic money tree and then finds a billion pounds to give to the DUP; an organisation that does not respect the LGBT community or women's rights. That is what this response is for."
Reviewer: Keith Mckenna