In Skagway
Karen Ardiff
KTR Productions in association with Gúna Nua
Arcola Theatre
–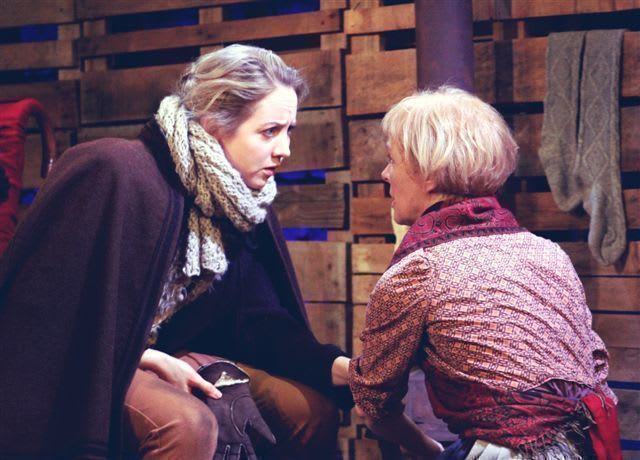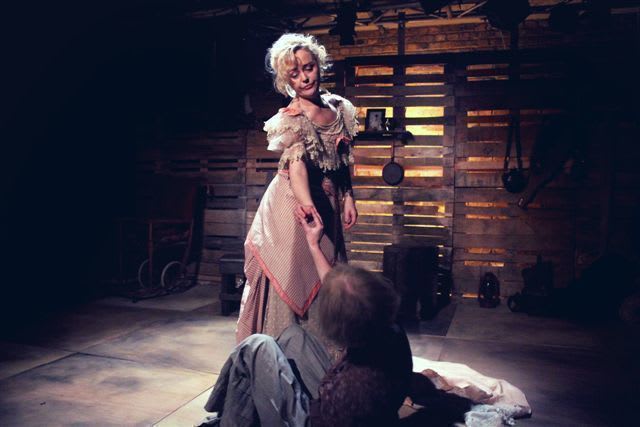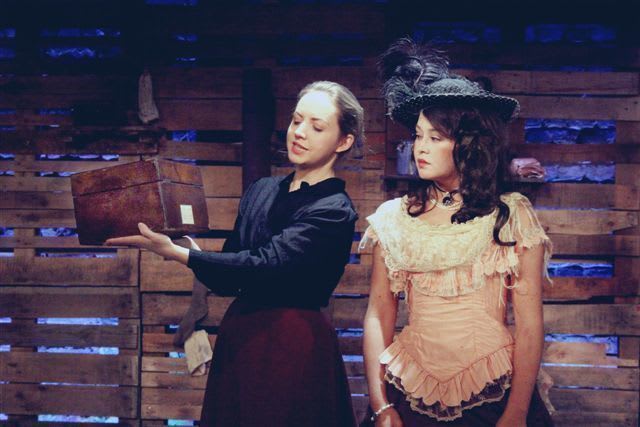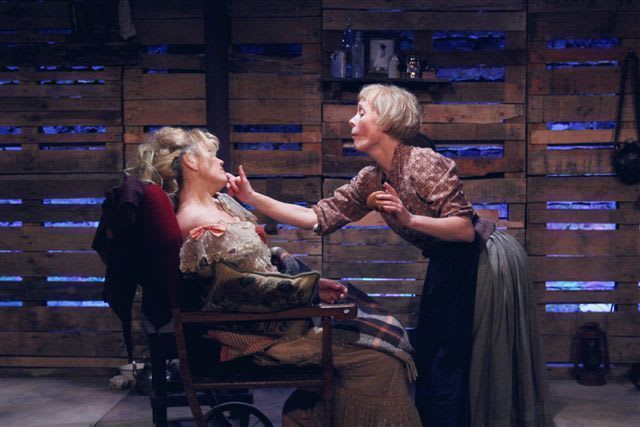 The port of Skagway, in Alaska, is now a tourist stop for cruise ships but, in the 1890s at the time of the Gold Rush, it was a boom town, the gateway to the Yukon trough which prospectors must pass.
The name comes from the word for beautiful woman in the language of the indigenous people, and was linked to a legend about a woman who turned herself to stone. That story seems to be the inspiration for this play, which Karen Ardiff sets there, though there is no reference made to it.
Its central character is Frances Harmon (Angeline Ball), known to her friends as Frankie, a washed-up, aging actress recently stricken by a stroke. She once had some acclaim for the way in which, as Hermione in Shakespeare's A Winter's Tale, she was presented as a stone statue that comes to life. Now, largely paralysed, can she come to life again?
She is attended by her seemingly devoted maid and dresser May O'Connell (Geraldine Alexander), an Irish woman with more spirit than intelligence who has convinced herself she will soon recover. T-Belle (Kathy Rose O'Brien), May's daughter, returns from the pass where she had been prospecting to discover the situation and takes a much more realistic view of things.
On top of Frankie's stroke, there comes a bigger shock: Frankie has handed over the hoard of gold T-Belle has collected, conned into financing the rebuilding of a theatre where she will perform where she expects to make a killing resurrecting a performance she gave leading the parade that launched the Statue of Liberty.
That is not all that is in store for T-Belle. There is another loss, a strange apotheosis and a final grim satisfaction as the tensions of this odd triangular relationship are exposed and the origins of its interdependence partly explained in flashbacks that may be in Frankie's mind.
In Skagway, premièred in 2012 in Dublin as The Goddess of Liberty, and won an Irish New Best Play Award and a BBC Radio Drama Award but in this production, directed by Russell Bolam, the speed and muffled accents of the opening scenes smudge how recent the stroke has been and left me wondering why anyone would join the Gold Rush with a woman in a wheelchair—presumably the actress brought the others with the intention of performing.
The openness of Natasha Piper's setting, with loosely-slatted planks letting light through, looks good but doesn't feel like somewhere that people arrive on snow shoes and worry about the onset of winter. Though Katherine Williams's lighting and George Dennis's sound design add to the atmosphere, this seems a theatrical construct and I never quite believed in the place or the characters as people. Natasha Starkey, as Nelly, gets little chance to be more than a stereotype opportunist tart.
When not stiff in her wheelchair, Angeline Ball's Frankie gives the self-image of the diva belied by the liquor flask in her hand but we get only a glimpse of an intriguing back-story and the half-voiced reasons May gives for staying with her only make sense because Geraldine Alexander, probably rightly, makes her dim-witted.
Striking out on her own prospecting and newly experiencing sexual satisfaction, which Kathy Rose O'Brien makes her extol with abandon, T-Belle seems to be at one of life's turning points but again it is a story that isn't developed in this ninety-minute one-acter. There is a much better play here waiting to emerge.
Reviewer: Howard Loxton