In the Bar of a Tokyo Hotel
Tennessee Williams
Charing Cross Theatre
–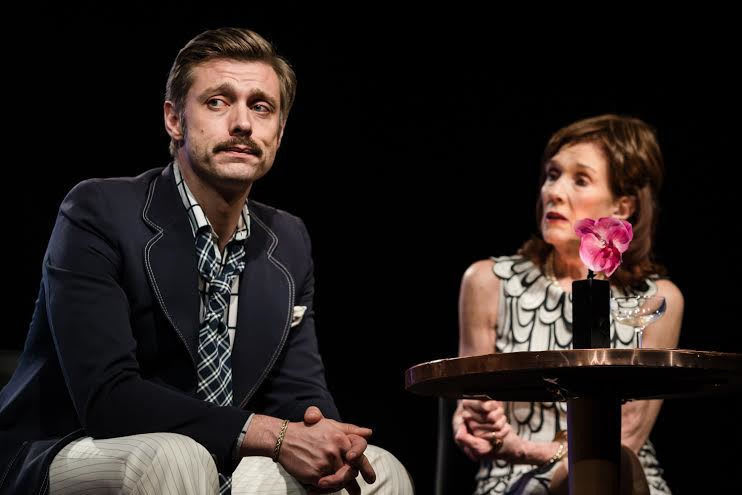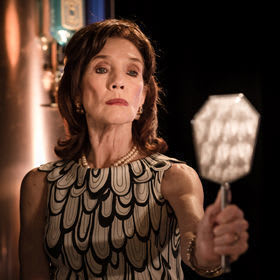 Painter Mark Connoily's hands are beginning to shake; he's dizzy and has problems with balance. His wife Miriam fears he has a neurological illness but he says it's a reaction to the excitement of discovering a new style, a new way of working. Are his problems mental or physical? He says he is discovering colour and light for the first time but has he simply used up his talent?
This is not something Miriam wants to cope with; she's had enough. After 35 years of marriage and helping him build his career she's more interested now in young men and knocking back screwdrivers.
While he's up in his room in a Tokyo hotel stripping off his clothes to roll around naked in the paint on his canvases, she is downstairs in the bar making a play for the barman. "Do you mind," she asks, "if I manipulate your genitals?" "I'm engaged," he protests, "and faithful," and does all he can to keep his distance until the pile of thousand yen notes on the table prove too irresistible.
When Mark emerges, in a paint-splattered suit and his hands daubed with colour, he falls about like a drunkard. On the barman's suggestion, she is taking a train to Kyoto, her husband demands he goes with her. But is the need here only on one side?
Linda Marlowe as Miriam suggests a desperate edge behind her control freak façade. Too aware of time ticking, she can momentarily look like a death's head while trying to prove she can still get what she wants. She never seems to stop talking, not least to the audience; if she did, she might have to face what is missing and indeed must in the end.
David Whitworth plays Mark as though his physical state is a metaphor for the artist who has lost his way and, despite designer Nicolai Hart-Hansen's elegant setting, Robert Chevara's production is not naturalistic. Even the rake of the stage emphasises the precipitous; swirling projections beyond the rear windows hint at both kanji characters and action painting as well late-1960s psychedelia and unfinished sentences, which seem a feature of this play, are not overlapped but instead the gaps emphasised.
Written after Williams's separation from his partner Frank Merlo and then caring for him as he died of cancer, fighting depression and drug dependent, there is much that seems autobiographical in both Mark and Miriam but not until the end does this production elicit much sympathy for either. Alan Turkington's Leonard, Mark's art-dealer, whom Miriam gets over from Manhattan with the intention that he will cope with her husband, is even less likeable. Mark has made him money but he seems more interested in the barman than in helping his client.
In fact Andrew Koji's smiling barman, trying so hard to observe the proprieties, seems the nicest among them, though we find out almost nothing about him.
In the Bar of a Tokyo Hotel has only had one previous UK production (at the New End in 1983) so this is a rare opportunity to see it. More cerebral than Williams's mainstream work but including some of his poetic flair in the writing, this hasn't the stature of his masterpieces but is a reminder of problems faced by all creative artists and those involved with them, though it doesn't explore them very deeply.
Reviewer: Howard Loxton