In The Willows
Poppy Burton-Morgan adapted from the book by Kenneth Grahame
Metta Theatre
Bristol Old Vic
–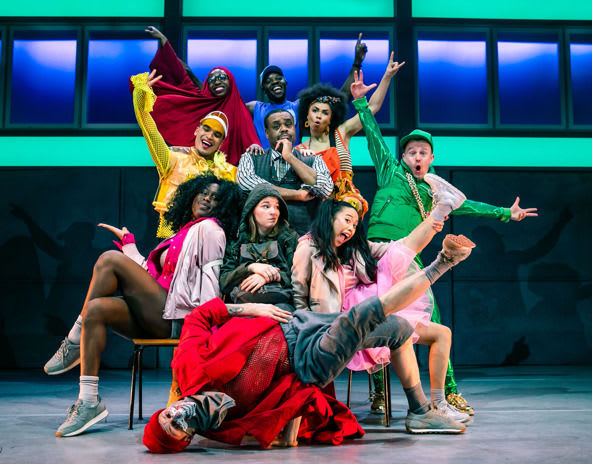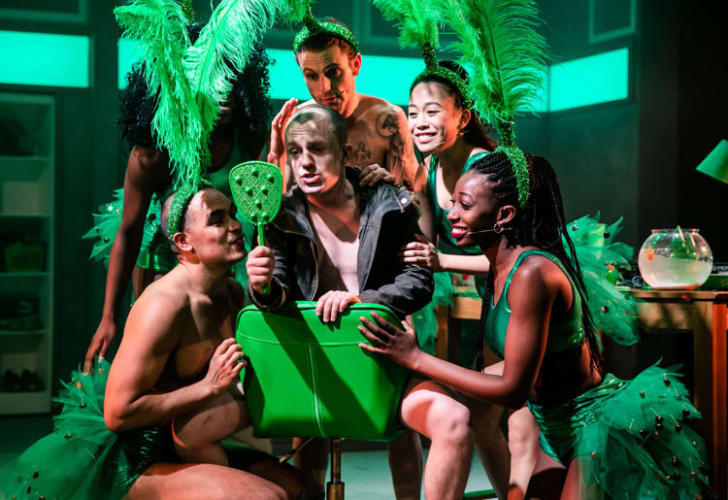 Metta Theatre's hip hop reworking of Kenneth Grahame's whimsical children's fable The Wind in the Willows is a theatrical breath of fresh air. Transferred from a genteel Edwardian riverbank to gritty inner-city mean streets, this tale of Rattie, Toad and Mole in human form starts slowly but builds momentum to deliver a family high school musical full of exuberance and diversity.
Mole arrives for her first day at The Willows, a failing senior school, with even more anxiety than most, for she has a dark secret that prevents her making friends. Victoria Boyce's portrayal is full of affecting vulnerability; burdened by guilt from her early childhood, Mole doesn't fit in, but, under the wise and watchful gaze of kindly teacher Mr Badger (a terrific performance from Clive Rowe), begins to find acceptance.
Zara MacIntosh's compelling cool girl Rattie, conflicted about her Cambridge University application, reassures Mole that everyone has issues. Chris Fonseca's genial Otter teaches her street dance and sign language, while Harry Jardine's flashy and misguided Toad rules the decks at The Riverbank club but leads her astray with material possessions, only later revealing the hidden longing that lies beneath.
All this backstory means the narrative is slow to get going, with Poppy Burton-Morgan's clever adaptation only gathering pace towards the end of the first half. Infectious from the off, though, are her witty lyrics, coupled with Pippa Cleary and Keiran Merrick's music incorporating elements of hip hop, rap and grime. Energetic numbers such as "In the Willows" and "Easy Life", performed with verve by the vocally talented cast, combine uplifting harmonies to linger long in the in the mind.
It's in the second half that the story really catches fire, as Toad is rescued from gaol, only to be kidnapped by a gang of scurrilous weasels. There are moments of endearing bittersweet comedy as, imprisoned in his swanky (lily) pad, Toad attempts to resuscitate his beloved goldfish while lamenting the damage done by the weasels in leaving the freezer door open and neglecting to use coasters for their drinks.
Dynamic choreography from Zoo Nation's Rhimes Lecointe incorporates BSL signing, either as part of the fast and riveting group numbers or by an interpreter who is on stage throughout. Deaf street dancer Fonseca and Bradley Charles as Chief Weasel dazzle in their moves as they battle for control of Toad Hall and there are entertaining tap-dancing dream sequences, led by X Factor's Seann Miley Moore as non-binary Duck.
It's a show of primary colours, not only in William Reynolds's design and Ryan Dawson Laight's bright costumes, but also in the moral lessons learnt. Though not exactly subtle in its message, the finale is irresistible, as Mole finds forgiveness and the value of true friendship and the class of 2019 celebrate their exemplary achievements.
The exposition could be more fluidly woven into the narrative, yet it's impossible not to warm to this vibrant, thrilling and inclusive delivery of Kenneth Grahame with ASBOs. Young or old, whether you know the original story or not, by the end of the show, In the Willows will have charmed its way into your heart.
Reviewer: Claire Hayes