In The Willows
Poppy Burton-Morgan (adapted from Kenneth Grahame)
Metta Theatre in association with Exeter Northcott Theatre
Exeter Northcott
–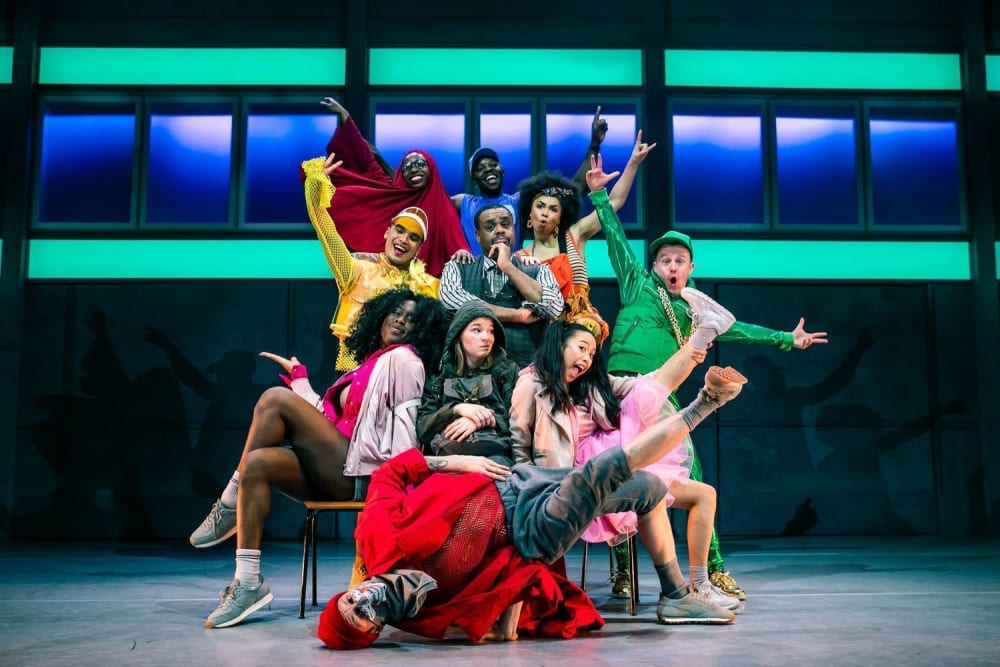 "Rapping fantastic" is the best way to describe this hugely explosive, energetic, witty, hip-hop musical production from Metta Theatre, just starting its regional tour of the UK.
This production, in association with Exeter's Northcott Theatre, takes Kenneth Grahame's 1908 original story of Wind in the Willows and slams it straight into the 21st century. All the familiar characters are there, Mole, Ratty, Toad, Badger… and the Weasels, but in this version, 'The Willows' is a senior school in a tough neighbourhood and it is Mole's first day. Overseeing it all is Badger, the kindly teacher who asks Ratty to look after the nervous new kid.
This version has great fun borrowing personalities from the original, but morphs them with caricatures from any typical high school soap drama and dresses them with hip-hop street culture. Thus, Toad becomes the likeable, but conceited, flashy kid: dressed in luminous green joggers, hoody, baseball cap, huge bling necklace and shiny gold trainers. Mole is the anxious, nervous new kid learning the ropes of this unfamiliar world at The Willows School. Rat is the confident, sassy kid in the 'hood who steers Mole through the tricky areas and kids that might cause trouble. Badger is the avuncular teacher trying to get as many children as he can through school and out of trouble.
The enormously talented ensemble cast deliver some great surprises with fabulously catchy music, witty and intelligent lyrics, explosive choreography and searing vocals. Tracks such as "In the Willows", "You're Not Alone", "Easy Life" are still ringing in your ears as you skip out of the theatre. Clive Rowe (Duke from Tracy Beaker), Harry Jardine, Zara MacIntosh, Chris Fonseca (The Greatest Dancer), Matt Knight (Let It Shine), Abiola Efunshile, Sean Miley Moore (X Factor), Katherine Picar and Treasure Iyamu make up the principle cast. Each one gets a moment in the limelight and it is difficult to take your eyes off any one of them. Even Simeon Campbell, delivering the sign language side stage, has his moment.
Rhimes Lecointe's (Zoo Nation) introduces dynamic choreography and Ryan Dawson Laight's colourful costumes give the whole an explosively lively and energetic vitality. William Reynolds's set cleverly allows for the intimacy of Badger's small home and the open spaces needed for this large cast to perform the dance-offs and set pieces at The Riverbank youth club.
Poppy Burton-Morgan's adaptation and direction, lyrics from Burton-Morgan and Keiran Merrick, music from Pippa Cleary and Merrick make this production something of a must-see. The characters and situation are thoroughly modern yet neatly streamlined with the original Grahame story. The musical ideas do all feel familiar but it is still thoroughly compelling. All credit too to Metta Theatre for setting the bar even higher by making this production as inclusive as possible. Sign language is used throughout the production, mostly by having someone sign stageside. But signing also becomes part of the dance routines and one very funny part of the show.
It is a intelligent, witty and hugely exhilarating production.
Reviewer: Joan Phillips